Cambodia - Day 4 Part 2
We went back to the hotel, and Elle had reached. After teasing her quite a bit about her missed flight, we realised we were starving.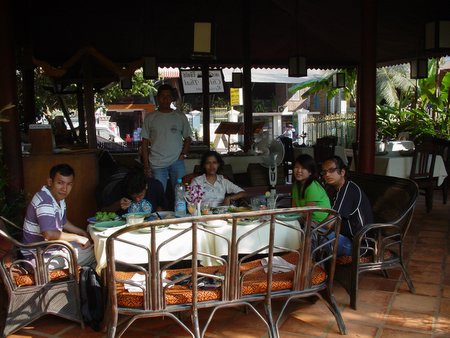 Lunch was at Chivit Thai.
Elle asked for ice in her drink, and the waiter, after adding the ice, said in his broken English, "Ice not good." A freaked out Elle asked him what he said, and he repeated, "Ice not good!" We wondered why he put it in the drink if it wasn't good, and he repeated himself again. Finally, he figured out that he was saying, "Ice not cold." Ice not cold?? How on earth was that possible?? But we were too hungry to get into any kind of discussion about that.
Later in the afternoon, we went to collect Elle's Angkor pass, and spent a long time waiting for the counters to open. The guide made a really funny announcement, "You can get a one-day pass or three day pass, But if you get a one day pass, the problem you can't extend to three days." I wondered who were these people who wanted to "extend the problem to three days!" :)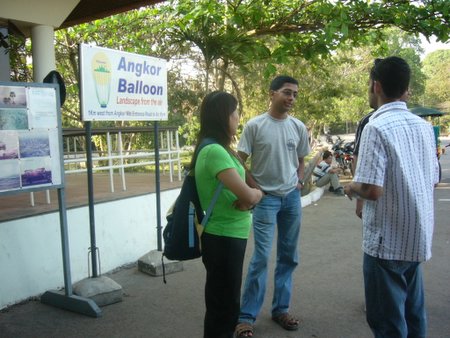 We also made plans to watch the sunset from the Angkor balloon.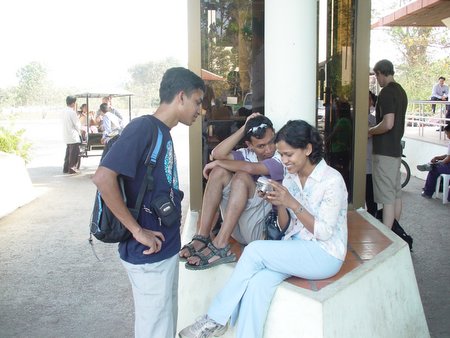 I was still not over the "jembing" incident, and kept looking at the photos again and again, and cracking up.
I got up to show Elle some of the pics and left my purse by the dozing Chin.
The purse had served me well in Cambodia. Not only did it carry my cash and camera, the pandora's purse also had loads of other things that we needed throughout the journey. A hair band for Ro. Contact lens solution for Max. Packets of tissue to cope with the hot and sweaty days. And much more! The guys swore by its contents.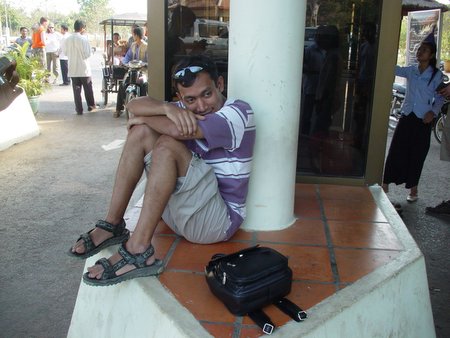 Chin wakes up, but is still unaware of the existence of the purse, which looks like it belongs to him.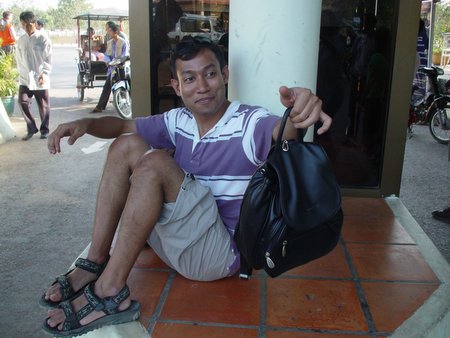 Aha! Now he sees it. "Take it away from me!" He says.
Finally, Elle got her pass and we went to the Angkor balloon.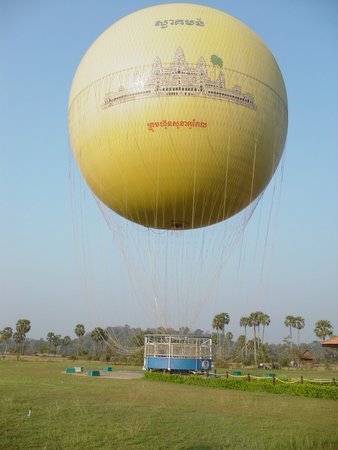 View of the balloon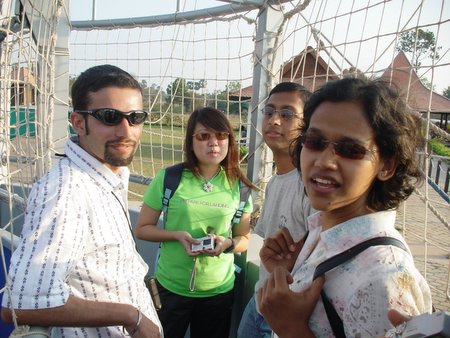 We got into the hot air balloon...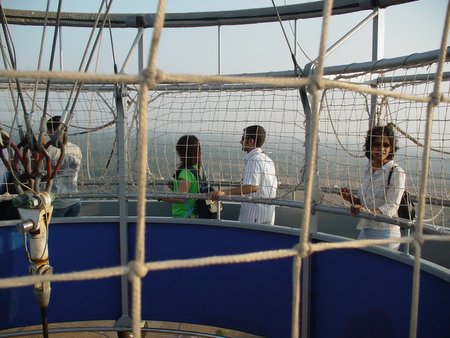 ... and walked around as the balloon rose in the air.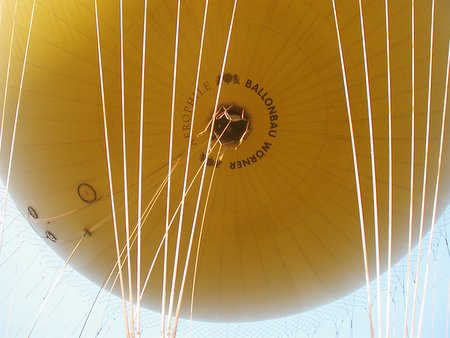 View of the top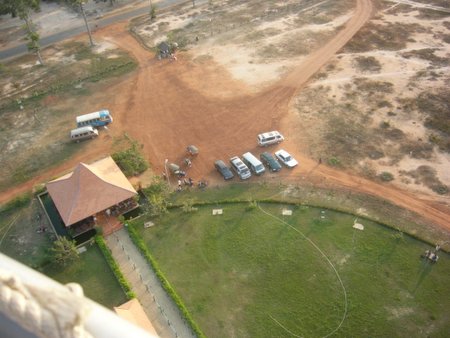 View of the bottom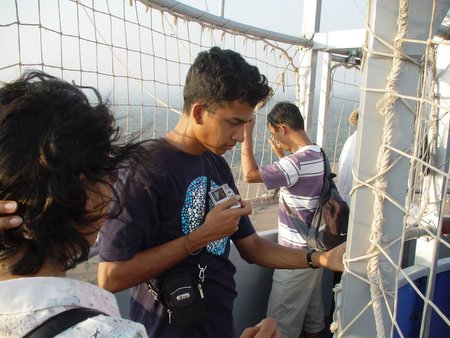 Chin wants to jump down?
The Angkor Wat was visible from the balloon, and we took numerous shots of it.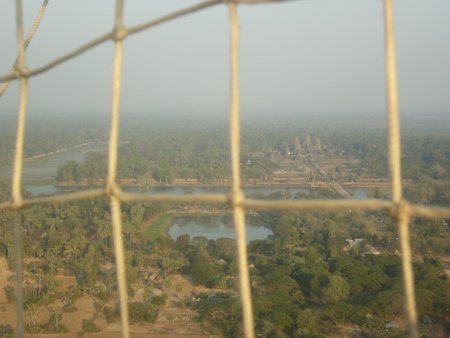 View of the Angkor Wat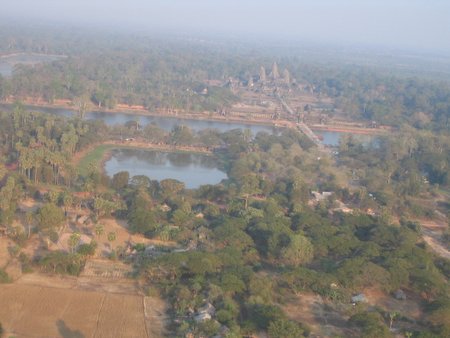 And another one when I held the camera outside the rope net to get a clearer view
We started taking random photographs.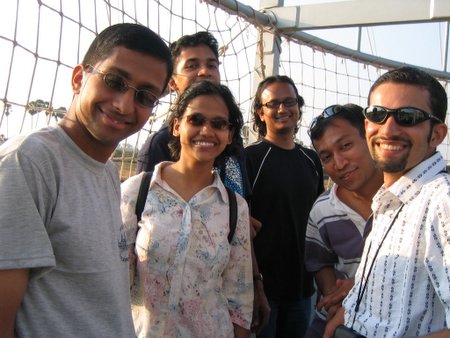 This was posed for.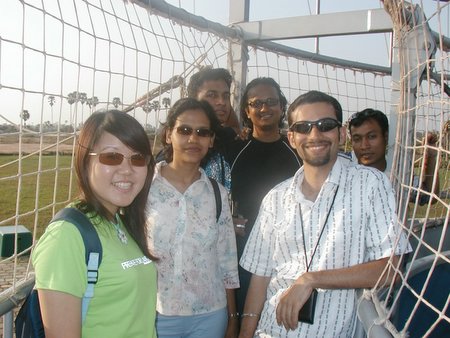 So was this.
But some were totally natural shots! Doesn't this photo make you want to break into the 'Titanic' song "My heart will go on"? ;)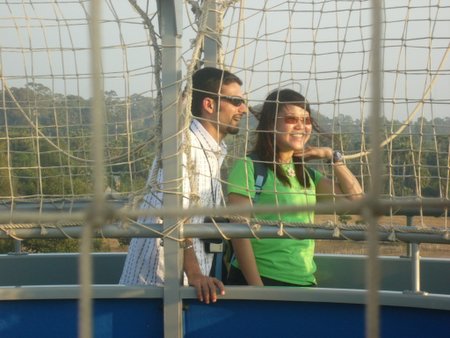 "Look Max, I'm flying!"
The ending note was catching the sunset through the ropes that enveloped all of us together in the Angkor hot air balloon.