Perdang - Day 3 Part 2
Each of us was completely exhausted, so we decided to take a quick nap after lunch. The first snorkelling trip was from 2:30 to 4:30 pm, and oversleeping would have meant missing it! So I was ultra paranoid, and barely slept. In about ten minutes, I was breaking the guys' door down.
Soon everyone was ready. The boat took us to some really brilliant snorkelling spots. It's a real pity that we did not take an underwater camera along with us, because some of the sights I saw were simply breath-taking.

After we got back, we decided to play beach volleyball for a while. So I made myself comfortable on one of the deck chairs and took shots of the guys playing.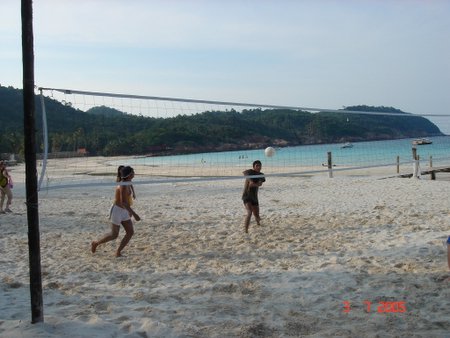 It started off with just my friends playing. Ro and Viv were on one side, while Jeeves was on the other side.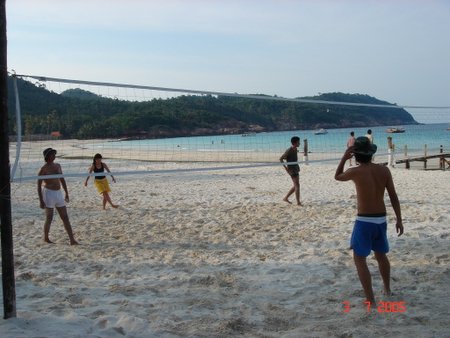 Then the guy in the blue shorts asked if he could join Jeeves' single-man team.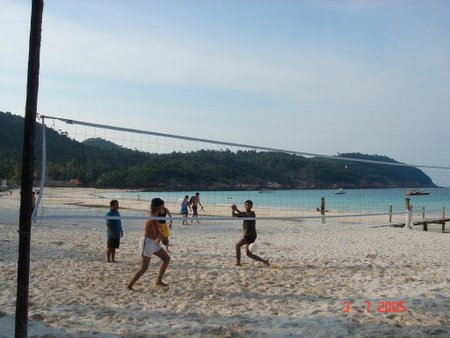 Ooh, Viv strikes a pose!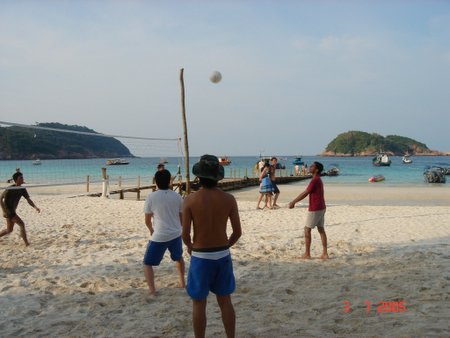 Soon, another blue-shorts guy was in Jeeves' team.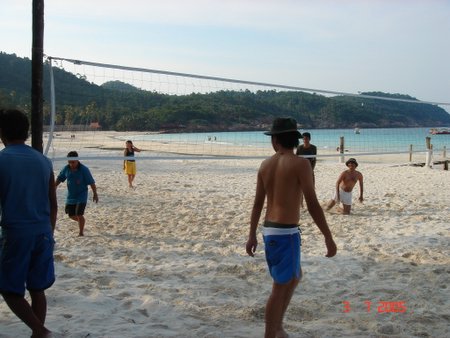 Two guys joined Viv's and Ro's team. The game was getting bigger!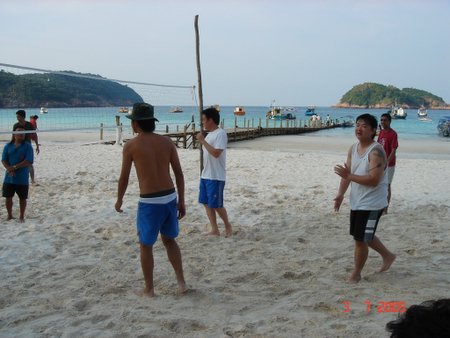 Tattoo guy joins Jeeves.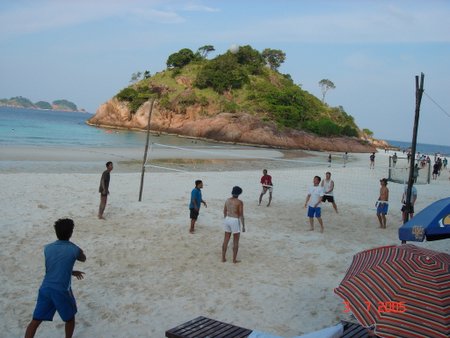 Guy in blue T-shirt and blue shorts joins Viv and Ro.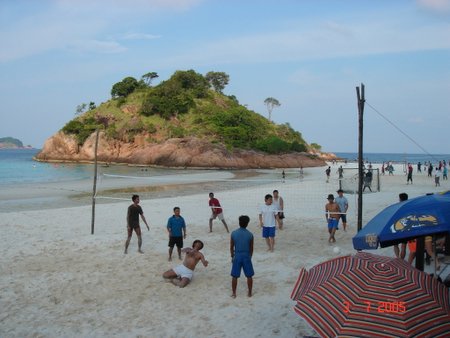 Finally that's how many people were playing the game that has started off with three! And yes, that's Ro doing a reverse dive!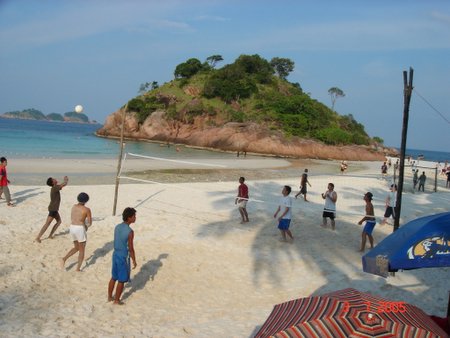 And here's a view of the beautiful game against the beautiful backdrop.
The guys were finally tired, and decided to leave the game to the rest, and play something else. They decided on frisbee.
I joined in with merry glee. In about five minutes, I discovered that I sucked at it, and decided to play spectator again. So there I was, taking pictures while the guys played.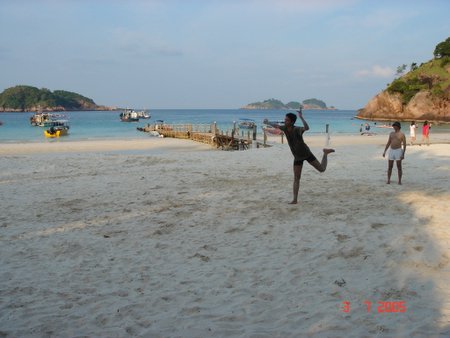 Viv displaying what I refer to as his 'ballerina throw'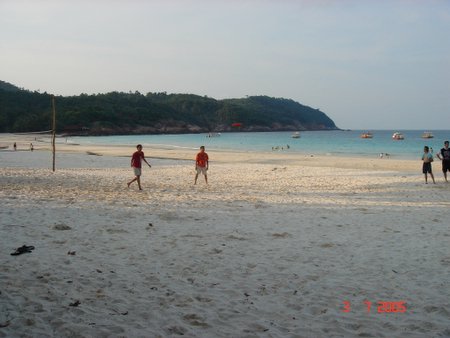 Soldier had joined in the fun too.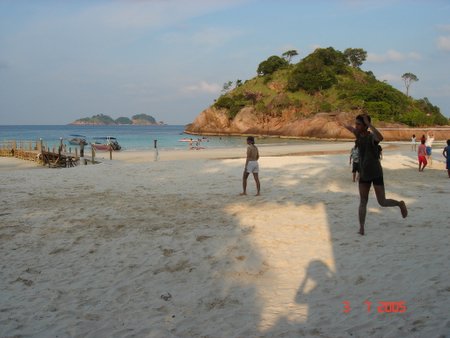 Can you see my shadow taking this pic?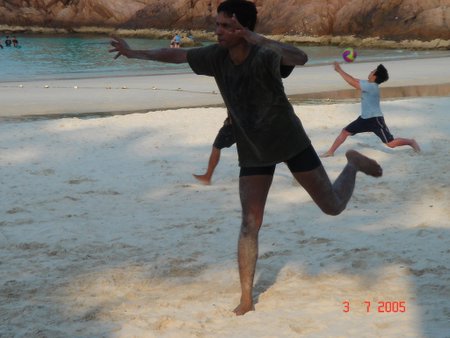 Close up of the 'ballerina throw'. Notice the guy in the background too. I love this pic for its dynamic nature.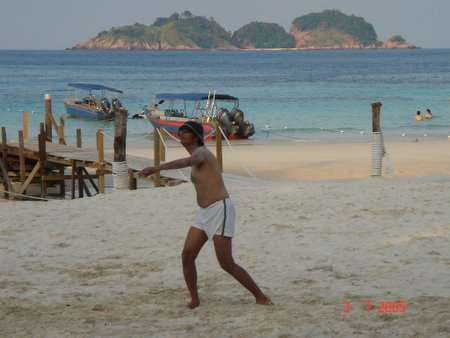 Ro taking a shot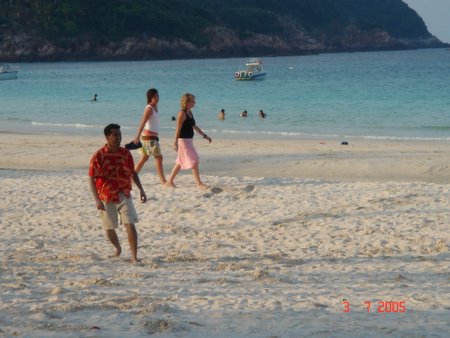 Soldier's about to be very very distracted.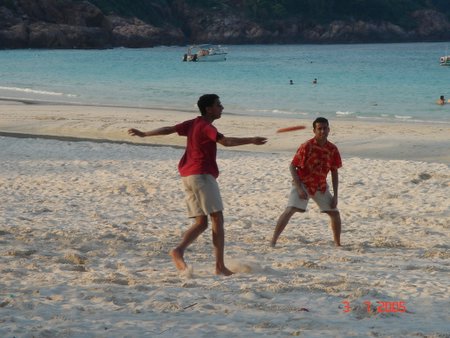 Jeeves, undisputably the best at the game
I was beginning to get bored when the guys finally decided that they were done with frisbee too.

I had still not had enough of the water.

"Let's frolick in the water!" We decided.

And so, five adults in their mid-twenties, walked towards the water with a very colourful ball.

On the way, we encountered something very bizarre. A guy was being buried in the sand by his buddies!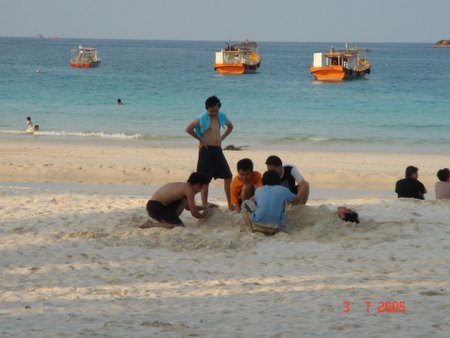 There they were, working hard.
I went up to them and asked them if I could take a picture of the guy. His extremely amused friends nodded to me, exchanging grins.
"Maybe you should ask him too!" One of them said to me.
"Excuse me, would you mind if I took a picture of you?" I asked in my most polite voice.
"No problem" said the guy, which sounded more like "Does it look like I have a choice, my dear? Get it done with soon, will ya?"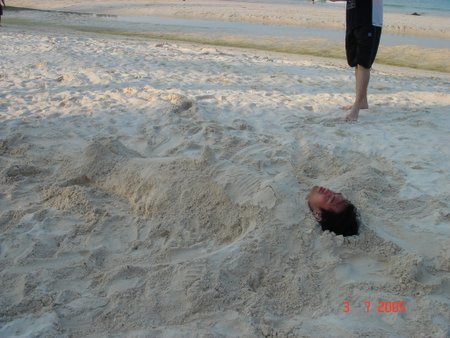 I guess the guy closed his eyes to not witness the painful moment when he was buried in the sand with certain projections made with sand, and a random girl on the beach, actually taking a picture of it.
We got into the water and started playing what I call 'waterball' where you stand in a circle in the water and throw the ball towards anyone you feel like.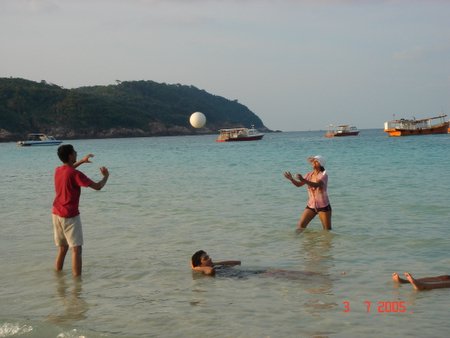 Jeeves throws the ball towards me. What on earth is Viv upto??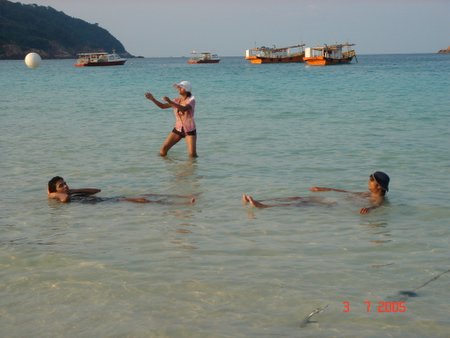 Looks like Viv and Ro were upto some synchronised floating show!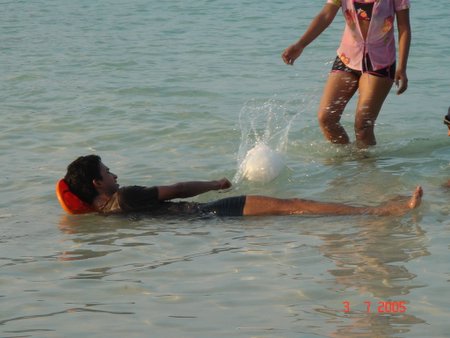 Viv tries to play in that posture...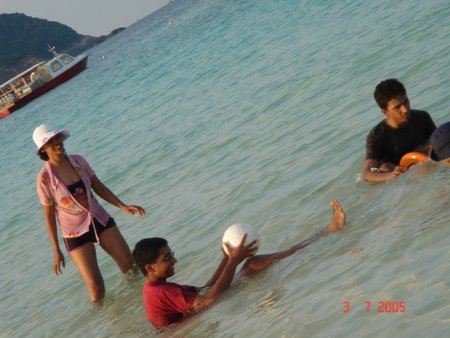 \
And finally gives up!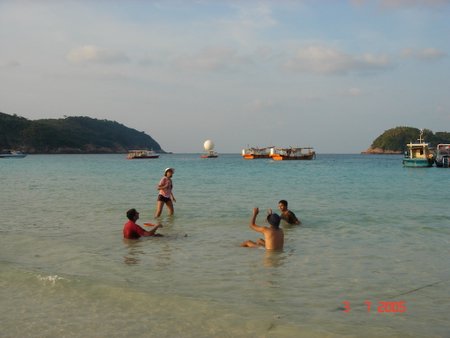 It was the most fun in water I'd had in many many years!

We went back to the hostel for a much-needed shower before he headed out to dinner.

The sky was a beautiful shade of pink and purple.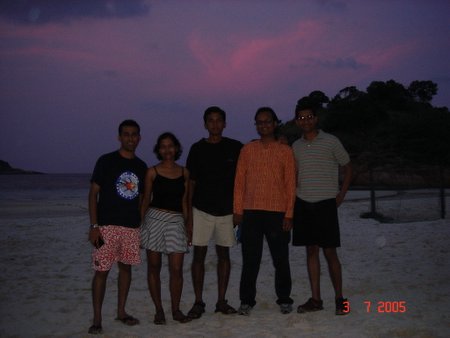 We paused to take a picture against the beautiful sky.
There was an F1 race on, and the guy wanted to watch it before we had dinner.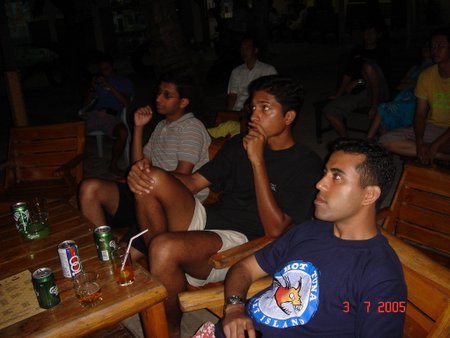 The F1 fans watch the race intently.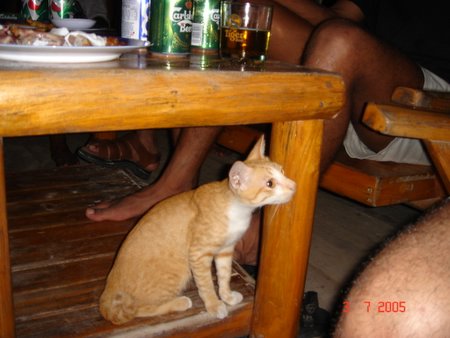 Ooh, we have a visitor!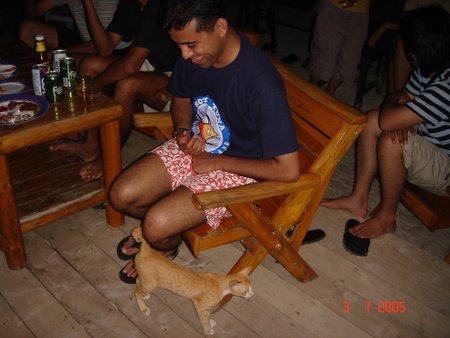 Soldier was either very happy to see the cat...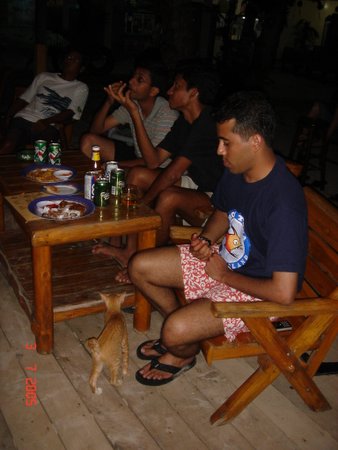 ...or very freaked out.
Ro and I, the not-so-enthusiastic F1 fans, decided to talk to the bartender instead. He was a guy from Nepal, who travelled around the world tending bars. He showed us his hindi song collection, and played our requests, most of which were remixes, but it was still good.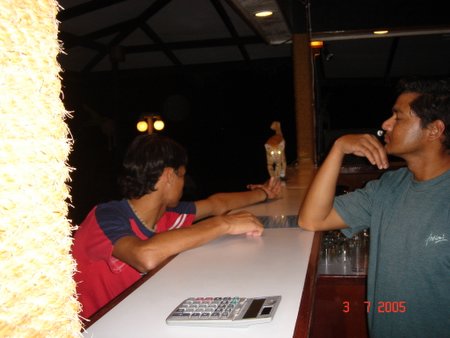 The bartender (right) and his assistant
I had a drink called maitai, which was a mixture of rum, brandy, pineapple juice, lime juice, and the very lethal-for-me orange juice, which explains the last photo, taken at the Laguna Redang, where we had dinner.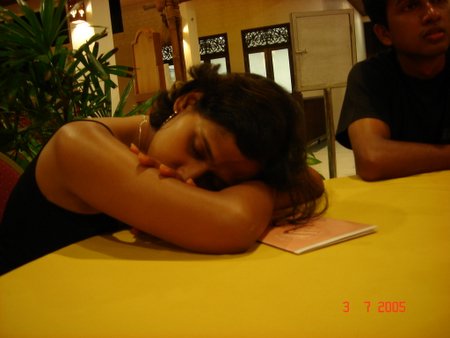 Sleeping beauty