Cambodia - Day 5 Part 2
Getting silently cooked in the sun for hours brings about a kind of depression that is hard to describe. Just when I thought that I was done with the depression of the day, I realised that the places to see on Day 5 included the Killing Fields of Cambodia and the Tuol Sleng prison (now referred to as the Tuol Sleng Museum of Genocidal Crimes).

26 years ago, a terrible stench led Cambodian farmer Neang Say to stumble upon the Killing Fields, the main execution and disposal site of the condemned inmates of Tuol Sleng prison, under the brutal rule of the Khmer Rouge, led by Pol Pot. I shall not elaborate too much on the background of Pol Pot, but you can read his killer file here.

Most of these photos are taken in sepia, which I feel lends a solemn tone to them.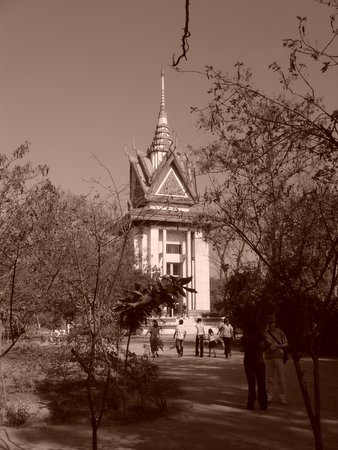 This monument contained the skulls exhumed from the Killing Fields.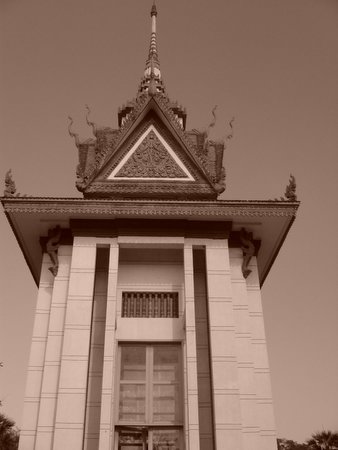 A closer shot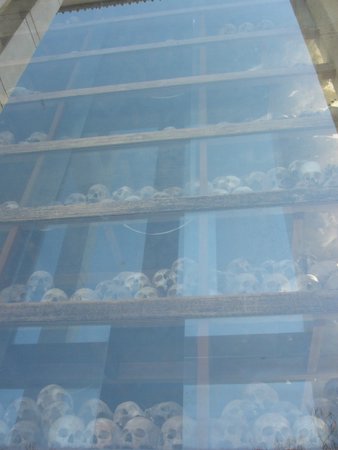 The skulls preserved inside the monument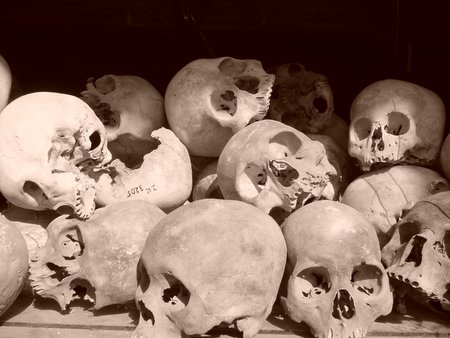 The skulls were labelled according to age and sex of the victims.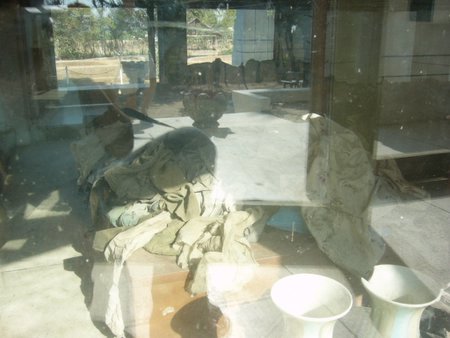 The clothes of the victims are also preserved in the glass dome.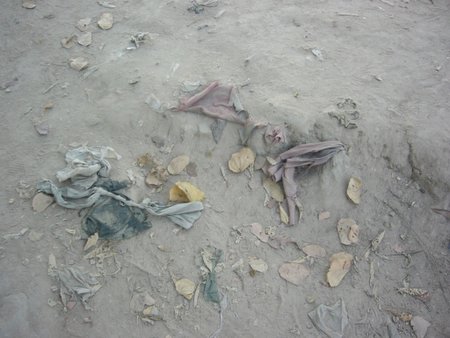 The half-buried clothes belong to the victims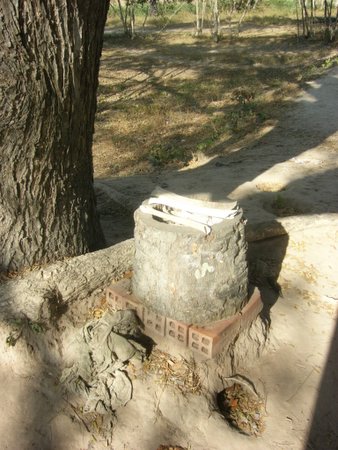 Human bones placed on small pedestals. Buddhist monks pray for the victims at these pedestals.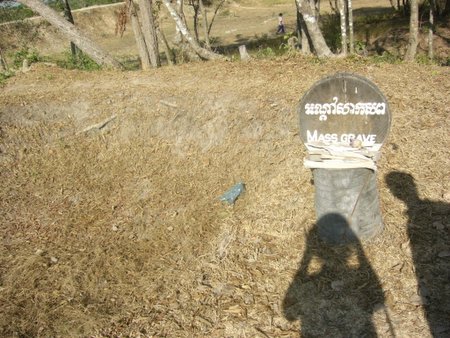 The actual fields where prisoners were herded to and murdered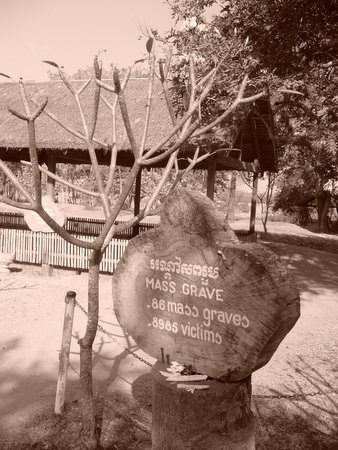 The stone showing the way to 86 mass graves,
with a total of 8985 victims' bodies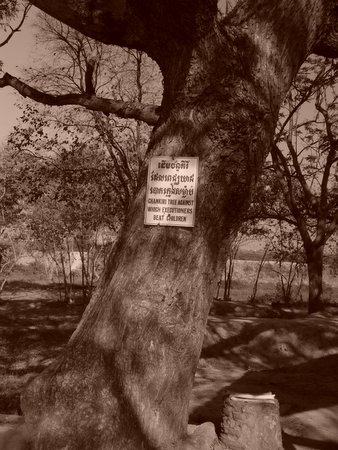 The chankiri tree against which executioners bashed babies and children to kill them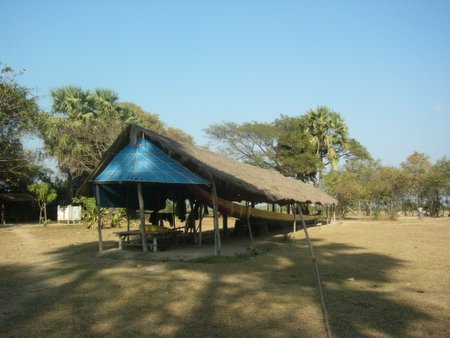 This strange hut-like structure caught my eye and I went closer.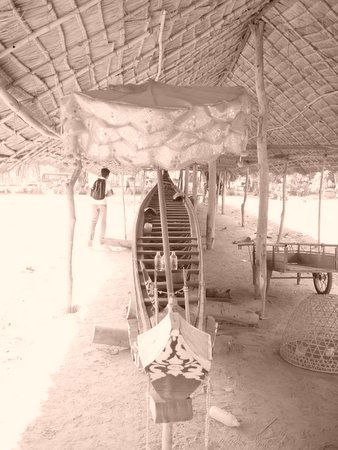 There was a very long boat inside, but there was no board to tell us about its significance.
We headed for the Tuol Sleng museum next, each of us lost in deep thoughts. This was extremely depressing, and I would not advise the faint of heart to visit

it. In fact, Elle had already told us that she would not be visiting it, as she had heard about its morbidi

ty from a friend. Translated as 'hill of the poison tree', Toul Sleng was also referred to as
'konlaenh choul min dael chenh' (or "the place where people went in but never came out"). This former school was transformed by the Khmer Rouge into one of the most notorious prisons of the world. About a quarter to a third of Cambodia's population was killed by the Khmer Rouge.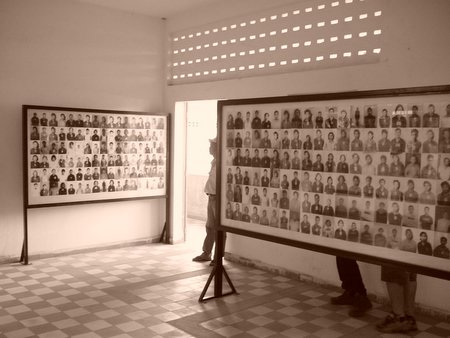 Photos of victims taken just before they were brutally murdered
There were only seven survivors of the executions who are alive today. One of them is
Van Nath, a painter. His life had been saved when it was found he was a sculptor and he was put to work making busts of Pol Pot.
His paintings of the gory methods of execution used by the Khmer Rouge are displayed in the Tuol Sleng museum. You can find more information on Van Nath
here
.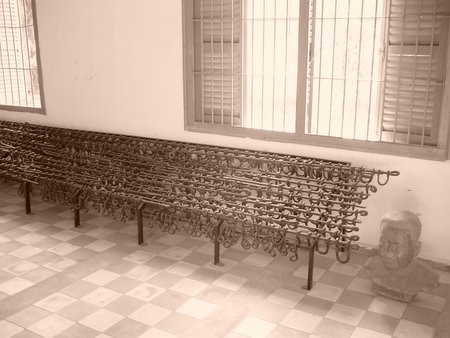 These shackles were used to bind the prisoners. Can you imagine how many people were shackled together?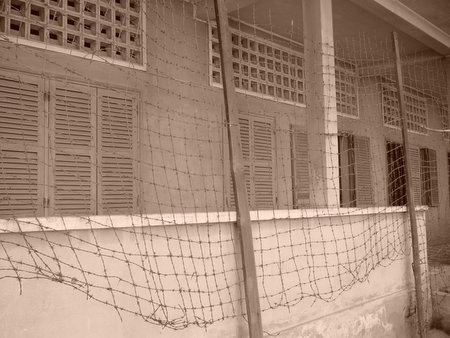 Barbed wire was used to prevent prisoners from committing suicide.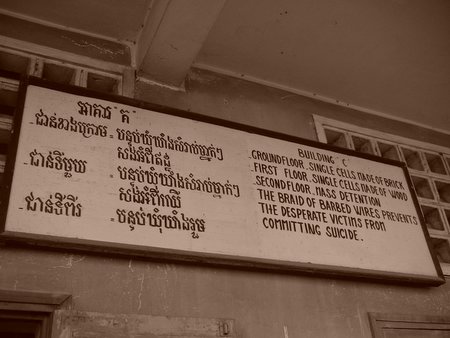 Notice boards telling us more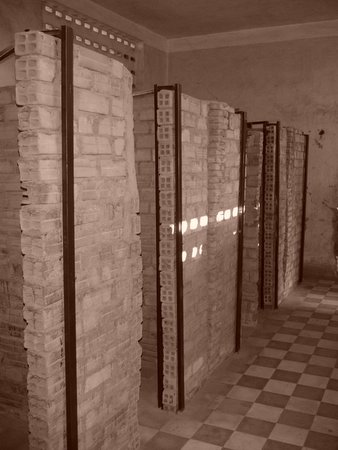 The cells barely had standing room for one person.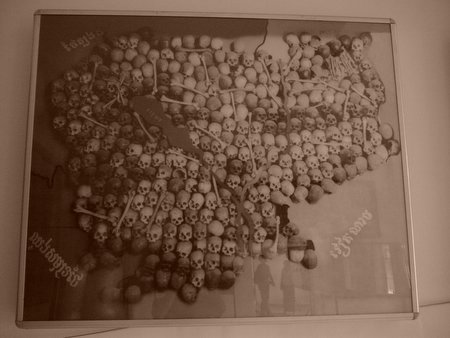 Map of Cambodia represented by skulls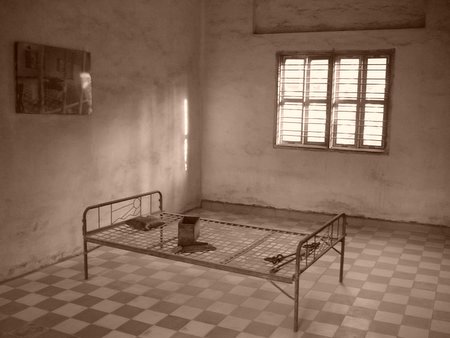 Inside the cell. Prisoners were chained to their beds.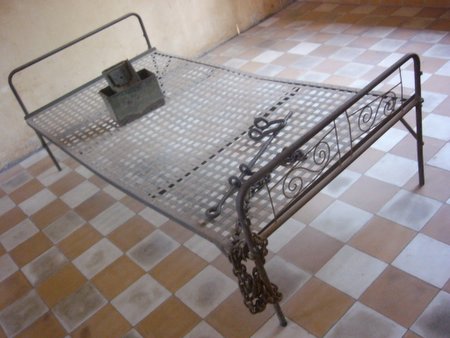 Close-up of the bed and chains
After a while, things got too heavy for me, and I sat down to take a breather. By then, I had lost the others, who were on different rooms of the museum. Suddenly I saw something that freaked me out completely.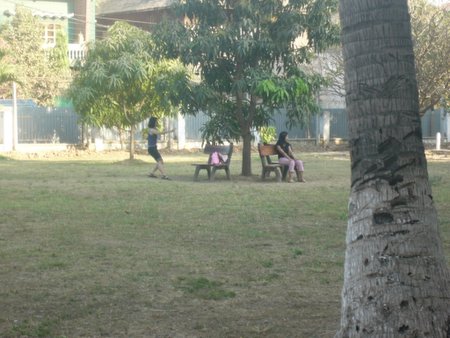 I noticed this woman doing some weird form of taichi (was it?) under a tree.
I freaked out and fled to find my friends. I found these two kids staring at me instead.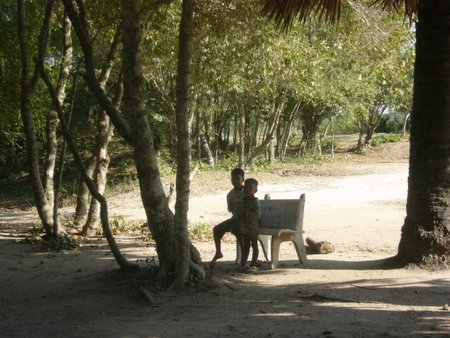 It was eerie.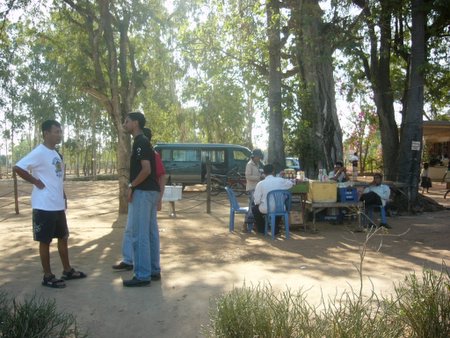 There they were! I breathed in relief.
We stepped out of the museum with heavy hearts. No one said a word. We were already a silent bunch after the morning's exhausting boat journey. After the visit to the Killing Fields and the Tuol Sleng prison, no one felt like saying anything any more.

We decided to go to the Bodhi Tree for a drink.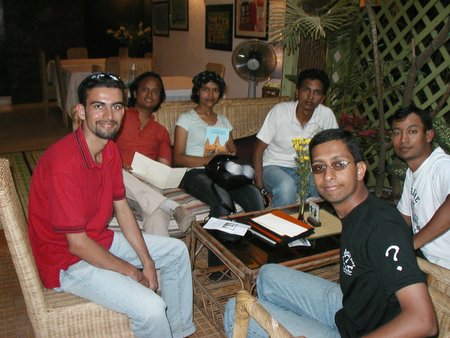 We sat there, solemn, and yet trying to smile and shake off what we had just seen.


We headed back to the hotel to change, rest and freshen up, and shake off some of the memories of the day. In the evening, we set off for dinner in a cab. The cab driver was rather weird, he insisted that we finish our dinner by ten so he could come back and fetch us. He was so persistent that we finally gave in, and asked him to come back at 11.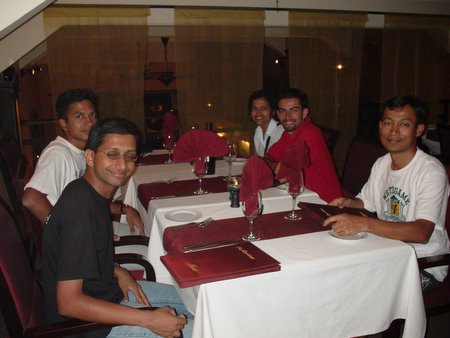 Dinner was at a nice French restaurant with a very gracious host.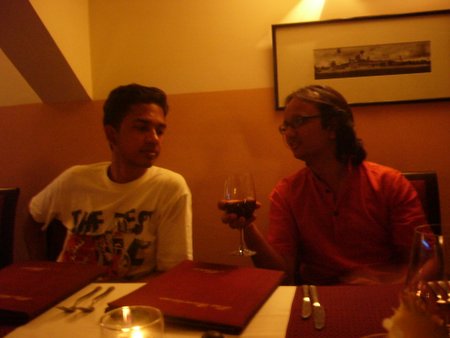 The wine expert Ro gives Viv some pointers.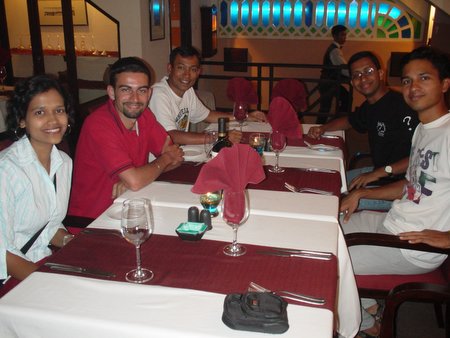 The day's depression had lifted. We look much happier, don't we?



We took a nice long walk after dinner, which was pretty much the happiest thing that happened in the entire day. The cab driver was right on time, and we headed back to get some much-needed and well-deserved shuteye.