Cambodia - Day 2 Part 1
Day 2 started with a bang! Elle, a friend of Max's, was supposed to join us in Siem Reap that afternoon. But Max got a call from her saying she had missed her flight, and she could only make it there on the 7th of Feb! We spent a good hour discussing how people can miss their flights, which was quite ridiculous as half the people in the discussion had missed one flight or the other before!
As usual, I had no clue about the plans for the day, and as usual, I turned to AskJeeves.com. That's the best thing about Jeeves, he would always patiently answer my:
"Jeeves, what are we doing now?"
"Jeeves, what are we doing next?"

"Jeeves, where are we going now?"
"Jeeves, what will we do after going where we are going now?"
That, obviously, explains the nickname 'Jeeves'.
So, as we sat at the breakfast table, I started my banter of questions. The breakfast place was next to a filthy little pond (which incidentally looks great on the hotel's website) but it was cosy. Having promised myself that I would not have eggs (there had been a bird flu case in Cambodia that week), I settled for pancakes, which turned out to be yummy. I donated part of my baguette to the filthy fish in the filthy pond. Poor things looked starved. Don't ask how I know. They just did.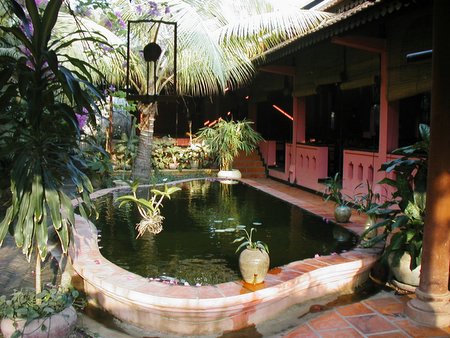 Filthy pond with hungry fish
We had arranged for a driver and a guide to take us around, since we had quite a few places to visit that day.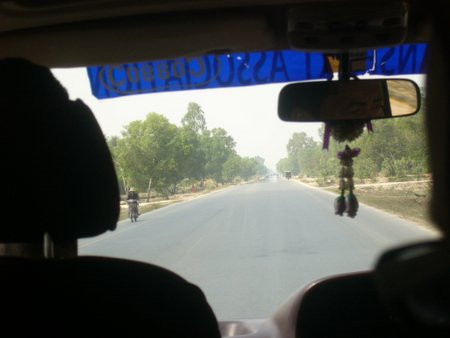 Off we go...
Our guide was this enthusiastic chap called Kimli, who took his job seriously. Too seriously at times. Trying to give us full worth of our money, he kept chattering throughout the journey, often disrupting Chin's favourite past-time.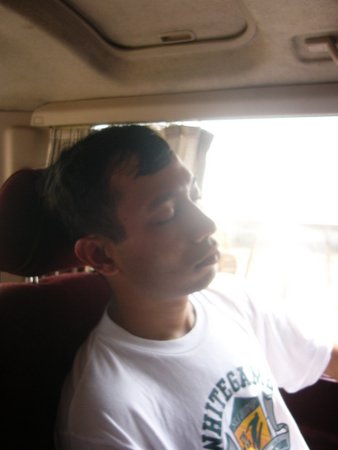 Chin's at it again!
Soon, he realised that we knew quite a bit already, and then started giving us mini-quizzes, "You know why it is called Lolei? You know who built it?" Obviously, the guys lost interest after a while, and Kimli proceeded to traumatise the mosquitoes in the van.
The only time the guys woke was when they caught Kimli's declaration to Max, "Mine is very small. Yours is very big."
Well, he was talking about the map of Siem Reap.
We went to the Roluos group of temples first, which includes the Lolei, Preah Ko and Bakong temples.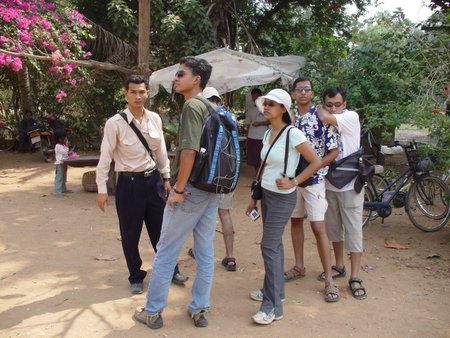 Kimli, our talkative guide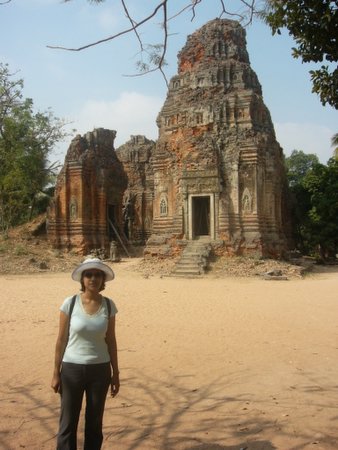 Lolei temple in the background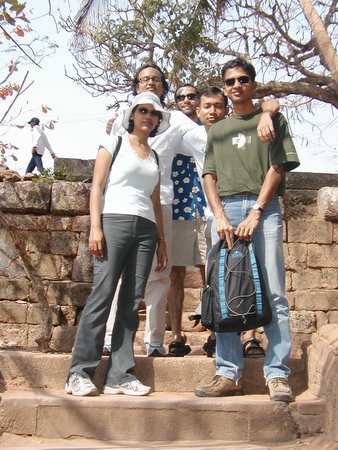 It was hot like hell! Long live my big girly hat!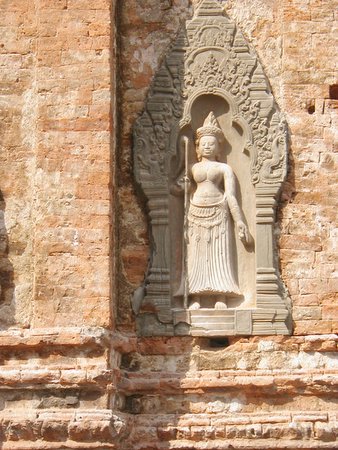 Apsaras (celestial dancers) are a common
feature in almost all temples.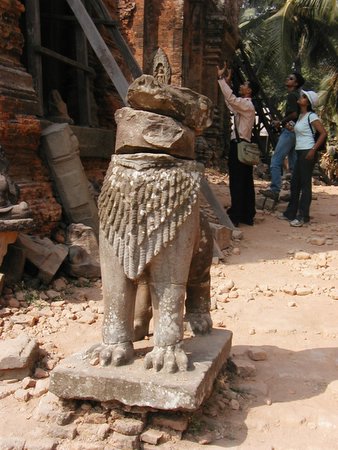 Kimli shows us the ruins and reconstruction at Lolei.
We found a bunch of tiny tots roaming around the area. They were quite shy, and were giving us curious glances from behind the trees and the ruins. We called them and took some snaps with them.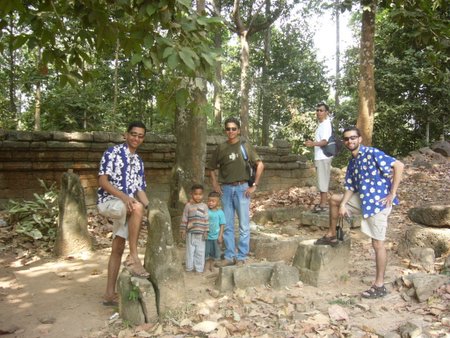 The two men and the four boys
With a notorious history of fainting if I got hungry in the sun, I was well prepared. I had some bananas in my bag, which I planned to have if I felt hungry. But looking at the cute little kids, I could not resist and gave them the bananas. They became quite friendly afterwards and hung around with me for a while.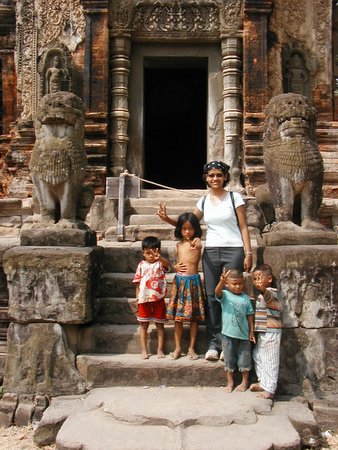 Check out their 'victory' signs in the photo!
Ro had bought a traditional Cambodian 'krama', a coloured, checked scarf. Apparently, the Cambodians use this versatile piece of cloth in a variety of ways, most often to shield themselves from the sun and the dust. As you will see in later snaps, he made good use of them!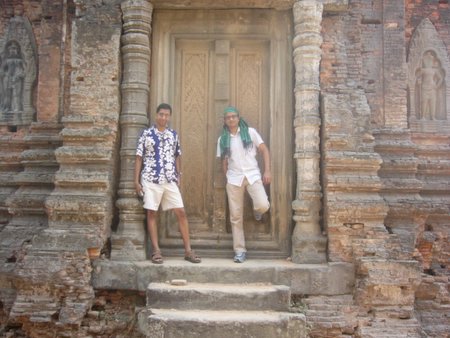 Ro pulls off the krama in style!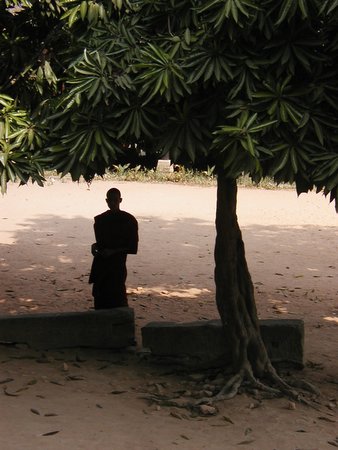 We spotted a monk looking at us, and I asked
Kimli if it was okay to take a picture with him.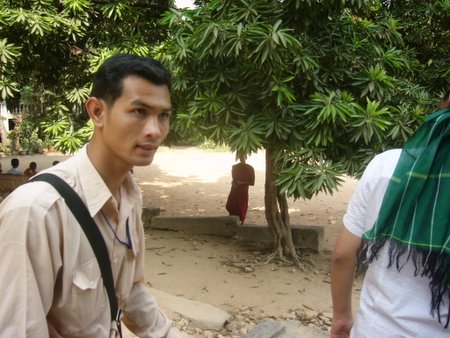 "You can take pictures, but you must not touch him, okhay?"
Kimli warns me!
Me: "Errr... I had no intention of touching him, but gee, thanks for the warning!"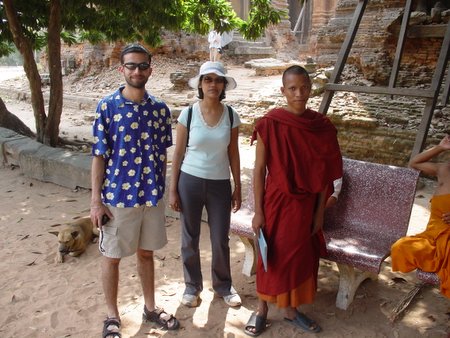 Max and I pose with the monk.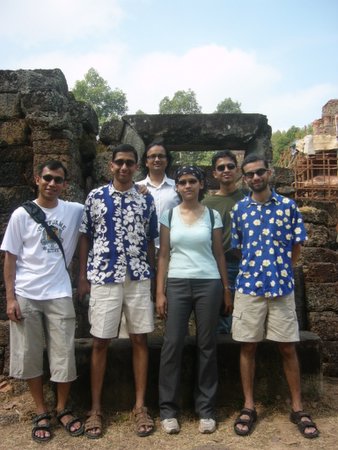 Us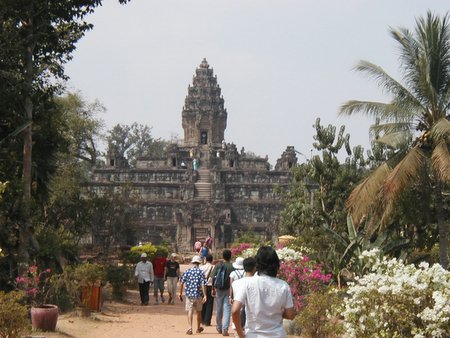 Walking towards Bakong temple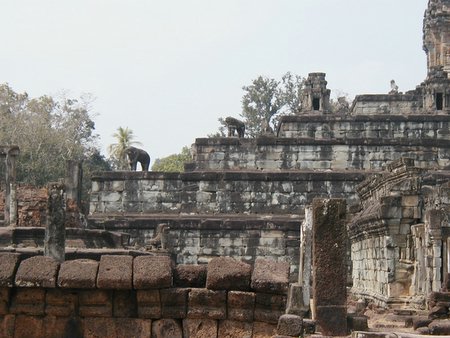 Ruins of Bakong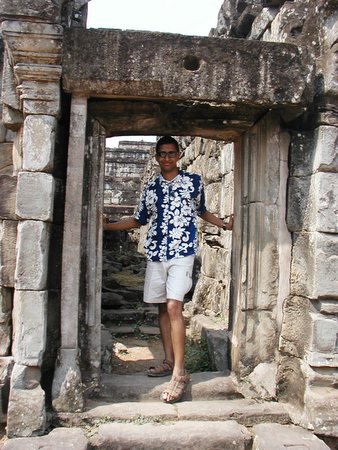 Jeeves is "framed"!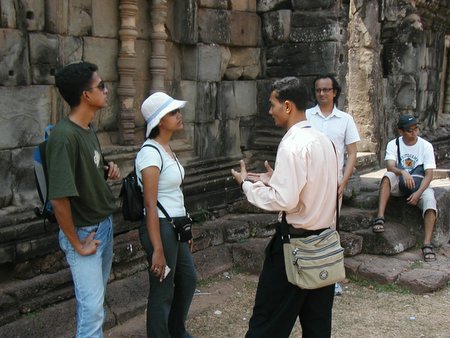 Am I the only one interested in what Kimli's saying?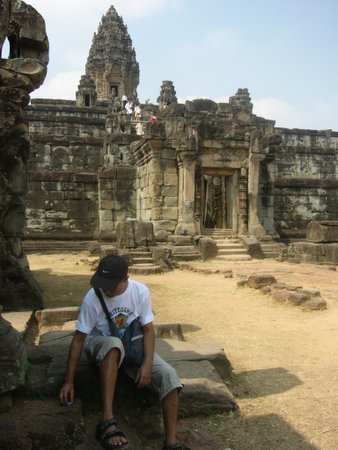 Apparently!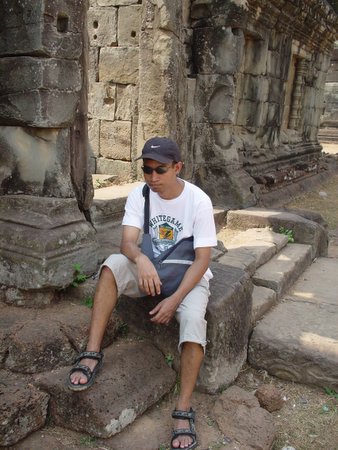 The pic speaks for itself!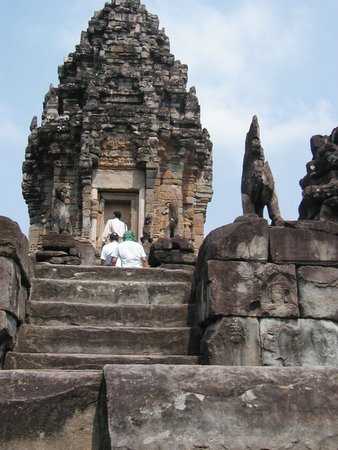 We climb up the temple...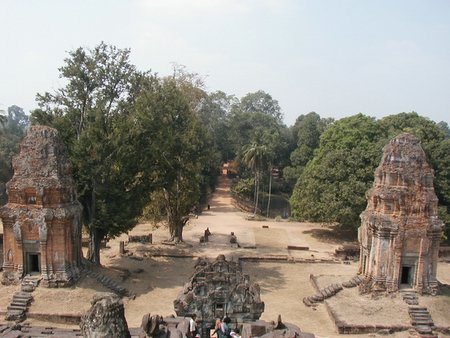 View from the top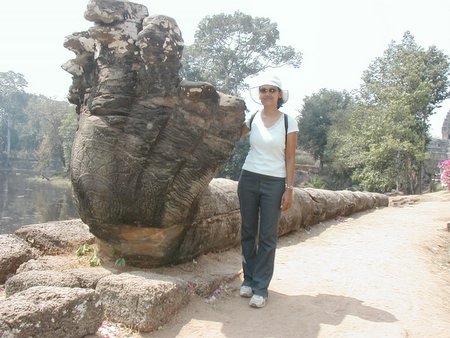 I pose with the naga at the entrance.
Viv absolutely insisted that Ro take a picture of him where his face is visible through the gap in one of the temple tops.
I had a good laugh listening to Ro's instructions:
"Move back a little. I cannot see your face!"
"A bit more."
"Not so much!!"
"Ok, now move forward. I cannot see your face!"
And it went on and on...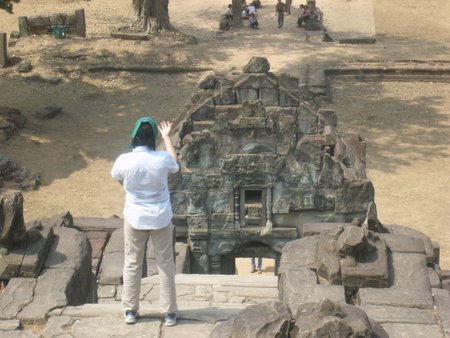 I had to take this photo! Can you see Viv's legs? And Ro's frustration?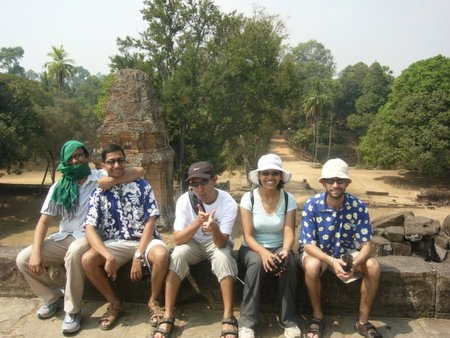 Yet another use of Ro's krama -- when he feels camera-shy!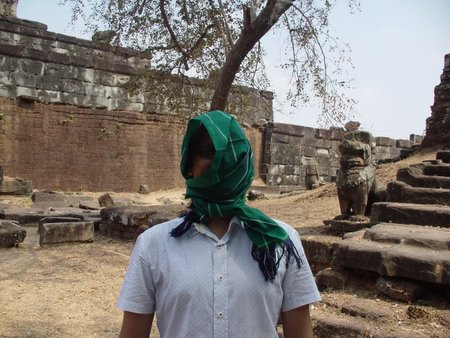 And a close-up shot!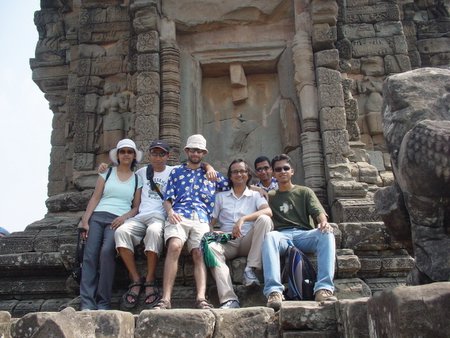 Yeay! We're all in the picture, thanks to Kimli!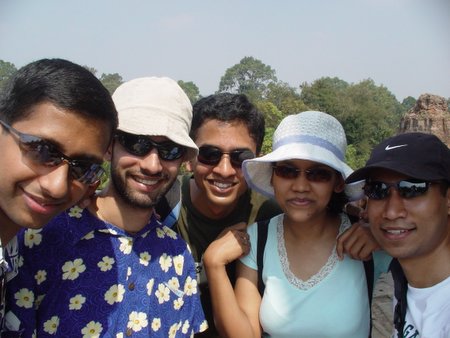 Now whose idea was this? We were trying to align our gogs in a
straight line. Obviously, geometry was not anybody's strong point!