Perdang - Day 1 Part 1
The Perhentian-Redang trip (nicknamed 'Perdang' by Ro) had been planned long ago, possibly right after the Cambodia trip. I had always wanted to see Perhentian island, and we decided that all of us should make a last trip together before the guys go off to the US for their MBAs.

Planning the trip was not easy. Chin and Max from the Cambodia trip could not join us. Viv was in Hong Kong and did not know when he would be coming back to Singapore. Even I could not confirm it till the last minute.

Viv returned from Hong Kong to discover that he did not have a Malaysian visa and that he could not get one at short notice. So we decided that the rest of us would take the flight, and Viv would take the other complicated route of taking the second link to get visa on entry and would meet us directly in Malaysia.

I am not quite sure who had a more nightmarish experience, but I will start with the bigger group's ordeal.

So Ro, Jeeves, Soldier and I went to Seletar airport to take the Berjaya Air flight to Redang. We decided to meet for breakfast at Delifrance in UE Square, and then head for Seletar airport from there. I reached Delifrance really early, and they had just opened. It was dimly lit, and kinda depressing. And to top it, they started playing the song 'All by myself'. I was alsmost beginning to freak out when the guys walked in, sporting their cool beachy shirts.

After a quick breakfast, we hopped into a cab and headed for Seletar. The area was beautiful, with lots of lush open spaces. In fact, we already felt as if we were in Malaysia or Cambodia.

We realised we had reached the airport quite early, and were made to wait in a lounge. There was a TV but the only channels were cartoon ones. Jeeves, Soldier and I settled down to watching rugrats, but Ro took his laptop out and started watching something on it. After a while, other people walked into the lounge, including this female who was with her husband. The guys found the female incredibly cute, and so after a while, I was the only one watching TV.

We checked in, and I got into trouble with my black bag again. My multi-purpose bag renowed for its amazing capacity. It is my survival kit. It has everything one can ever need on a holiday. So when the Immigration officials saw the bulging bag and said, "What's in here?" I was speechless for a moment. If I had stopped to name each of the items I had in my bag, we would have missed our flight. So I said, "Err... Stuff?" The official was highly amused, and proceeded to do a surface check of the bag. He realised that he could not afford the odd half-hour it would have taken to go through its contents.

We were asked to go and wait at another lounge. Everything was disorganised, another uncharacteristic phenomenon in Singapore, and we were wondering if we would ever get to board the plane.

The plane was a rickety 60-seater with only two air hostesses, and I grew very supicious when I was told that it was a free seating flight.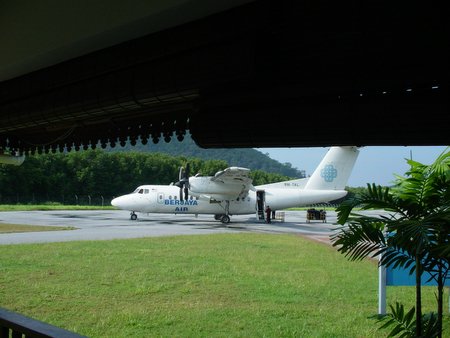 An Air Berjaya plane
There were four of us, and the only seats we could find were the ones right in front, the kind that face each other. Now I hate sitting on a seat that faces everyone else, whether it is on a bus or a plane. It gives me performance anxiety as I feel that everyone is looking at me, expecting me to break into song and dance any minute, and I am letting them down by staying put in the comfort of my seat!
As the air hostesses started the safety briefing, we realised that it was actually a good idea to listen to the safety instructions, as we were most likely to use it. "You will find a copy of the safety guidelines in front of you." the hostess said. There were no safety guidelines in front of me. There was only Ro.
We also completely freaked out to see a lady on the plane, her eyes closed tight, her hands clasped together in prayer as the plane took off. She maintained that posture throughout the flight! The noise made by the plane was incredibly loud, and yes, we were completely freaking out, so much that we started laughing at the worst of jokes possible. When you freak out, you laugh. And laugh we did.
The really noisy propellor was right outside Soldier's window and he said, "If I put my head outside the window, I can actually get a haircut!" The nervous laughs followed. Soldier's hands were getting cold.

Suddenly Jeeves realised that his armrest was loose. Watch carefully as Jeeves demonstrates in three simple steps how rickety the plane really was.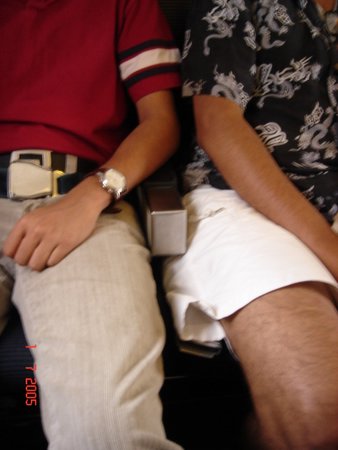 Step 1 - Everything looks fine.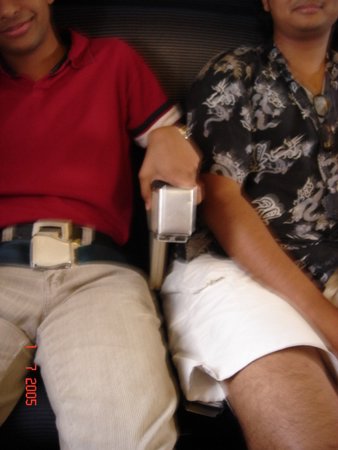 Step 2 - Pick up the armrest (yes, I said "pick up"!)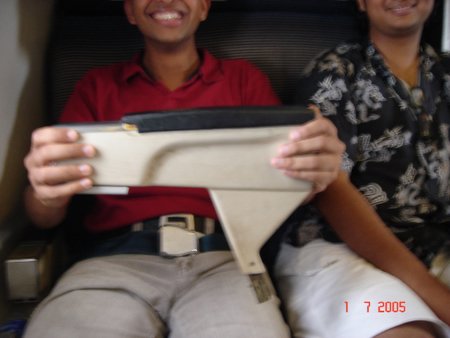 Step 3 - And off it comes!
We guffawed so hard that we got hungry! "Are we getting any food or what?" I wailed. The air hostesses brought out a tray with two glasses on it. "Looks like we are!" She headed straight for the cockpit, knocked and went in with the tray. Darn, that was the pilot! Five minutes later, the pilot stepped out of the cockpit, and as far as I could see, there was no one else inside. "The plane's on autopilot! Literally!" I exclaimed, horrified, to my travelmates.
"He looks drunk, man!" Someone said. Drunken flying! Geez!


The airhostesses had meanwhile settled down with their own cups of coffee, as the hungry passengers looked on.

"Bahut galat baat hai! Teen sau ringgit le liya aur khana bhi nahin diya!" said the indignant Soldier. ("This is not right! They charged us 300 ringgits and did not even give us food!")

In a while, the pilot returned to the cockpit, and as he opened the door, I caught a glimpse of the co-pilot and heaved a sigh of relief. Praying woman was still praying. We were still laughing. The hostesses finally took pity on us and gave us bottles of 'Revos' mineral water. "Revos!" said one of the guys, "Couldn't they think of a more creative name for reverse osmosis water?" "Shit and pee!" said Soldier. We laughed. I had no idea why.

In my terror and nervousness, I gulped down so much water, that in a while I was ready to risk going to the toilet in that plane. "So you're gonna do reverse reverse osmosis now!" said the guys. More hideous laughter followed! The thing was, I wasn't even sure that the plane had a toilet. Ro went to find it, and came back very happy. "The toilet has a sliding door, and the hostess helped me with it." He grinned. I went to find the toilet with the sliding door. There indeed was a sliding door, but the problem was that it wasn't sliding very well. The amused airhostesses had to come to my aid too.

When I came back, Soldier was reading the instructions in Malay written on the emergency exit. 'Pintu kecemasan' it said. "Emergency exit'. Soldier had conjured up the image of a boy called Pintu hanging outside the window, probably knocking to be let in. "Maybe Pintu is getting a haircut!" And we laughed again. When I think of it now, I'm sure that outside of that plance, we would never be laughing at those jokes. There's something about utter fear that brings people together. That makes them pray. That makes them pee. That makes them laugh.

Finally, the plane landed, and thanking our stars, we tumbled out of the plane, still talking about the incredibly scary experience we had just had.

But, as Jeeves said, "The inflight entertainment was the best!"

As we stepped out of the airport, a van driver greeted us, and asked us which resort we were going to. When we told him that we were going to Perhentian, he asked us what our plan was. We told him our plan -- flight to Redang, then take a boat to Merang, then take a van to Kuala Besut port, and then finally take a boat to Perhentian. He patiently listened to the whole thing, and then burst out laughing. "Let me advise you, Sir" he began, still trying to control his laughter. "You can take a boat from here to Perhentian!"

The websites Ro had referred to did not mention that it was possible to take a boat to Perhentian from Redang. We had made bookings, and we could not change them. Not to mention that Viv had already landed at Merang and was waiting for us (I'll describe his experience shortly). So we explained to the van driver that we could not change our plans, and if he could help us stick to the existing plan. He agreed to take us to the jetty in his van and arrange a boat for us to go to Merang.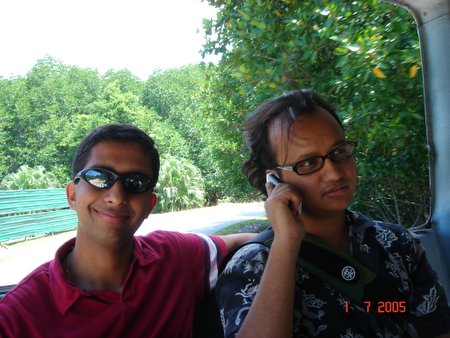 Ro trying to get in touch with Viv, who was going crazy with sheer solitude
Ro negotiated in broken Malay and finally we got a deal to get to Merang for 40 ringgit per person. We waited at the jetty for a very long time, because it was a Friday, and our boatman Lokeman had gone to offer prayers.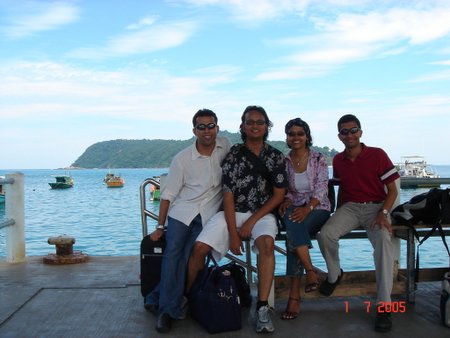 We hung around at the jetty, waiting for Lokeman.
After a while, we got really tired of the waiting, and wandered around. We saw some amazing fish in the water, some really big and colourful. There were baby crabs on the steps from the jetty leading to the water, who scurried away when we approached them, possibly because Ro kept saying, "Oh, we can make chilli crab!"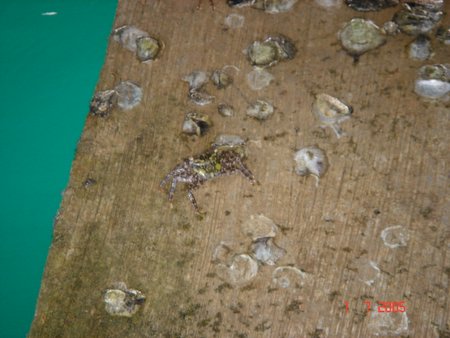 Can you spot the crab here?
Finally, Lokeman arrived with a bunch of his boatman friends, chattering in Malay, only some of which was understood by Ro. By their curious looks, I imagined that they were all laughing at our long-winded plan to get to Perhentian. For a second, it felt like a hostage situation.

Finally, we boarded Lokeman's yellow boat.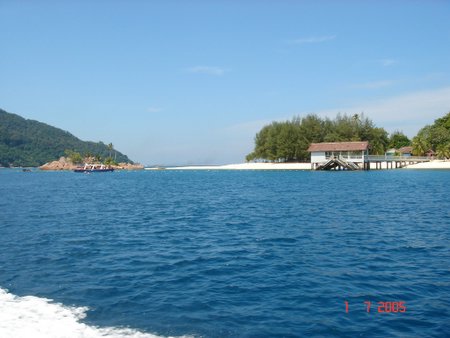 Notice the rich colour of the water?
We sat inside the boat for a while.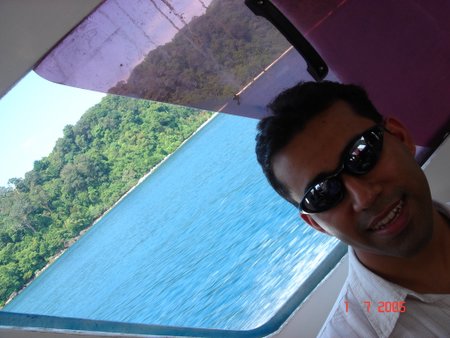 Soldier strikes a pretty pose.
In a while, we decided that the view outside was amazing, and that we should be out on the deck. As I stepped out, I saw what I'll call a blank canvas. On some levels, it reminded me of the movie poster of Swades. It had so much potential.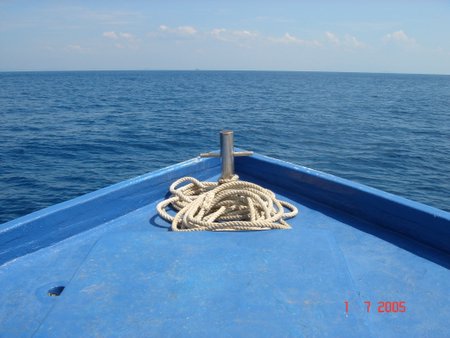 The blank canvas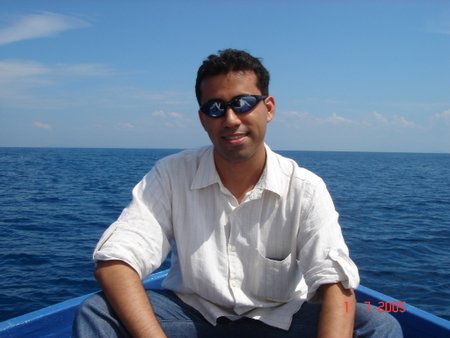 So I made Soldier pose. What a classy photograph!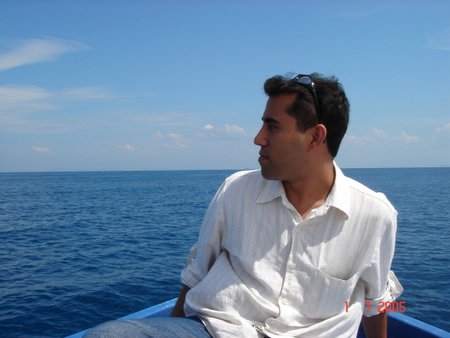 And yet, another pose.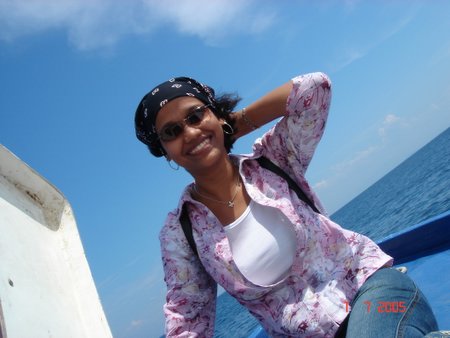 As I precariously perched on the deck, where the danger of falling into the open sea was very real, Soldier took this picture.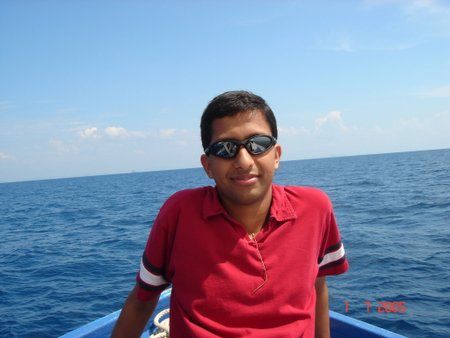 Jeeves was next.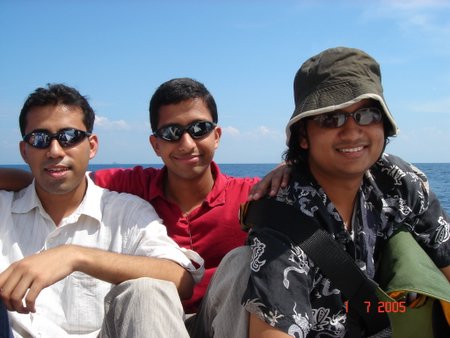 And here's a group photo I took of the backwater boys.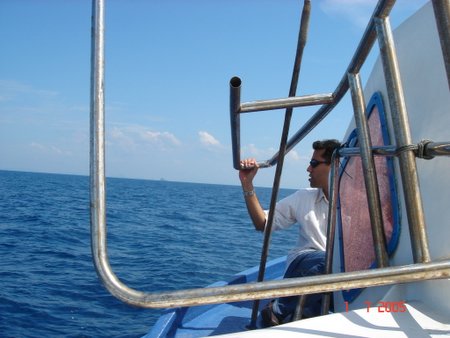 Another classy shot by moi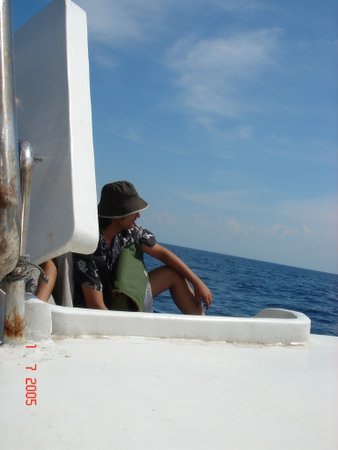 And yet another. I think that Ro, just like me, gets reflective on boats.
It was getting hot and wobbly on the deck and I decided to go inside and enjoy the view from there.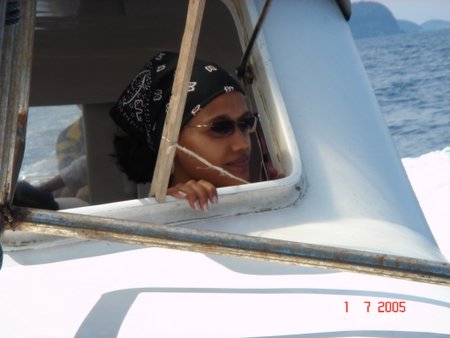 Soldier then took this shot, which the guys refer to as "Mummy won't let me go out and play, so I'll watch from here" snap.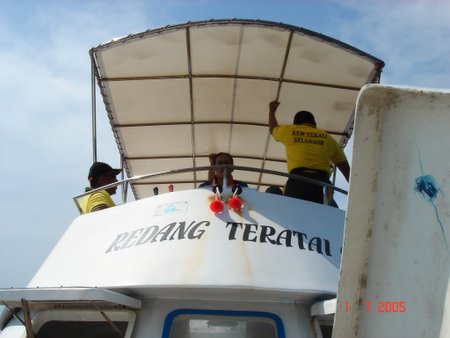 Redang Teratai,
Lokeman's boat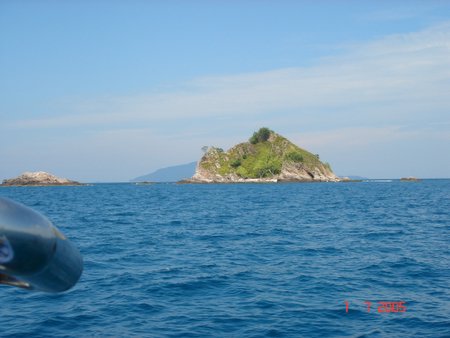 And finally, we see land. What beautiful colours!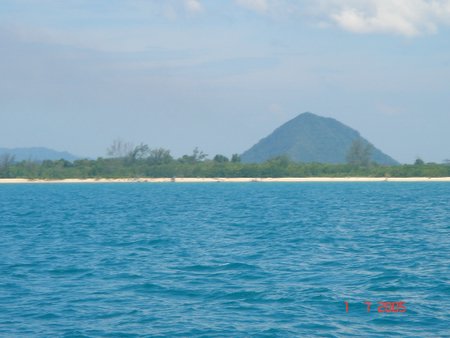 And we can see the beach here!