Cambodia - Day 2 Part 2
We went back to old market for lunch at an Indian place. The owner was a sardarji, who pleasantly surprised us by speaking in Hindi. We chatted over bad lassi and good food. The guys ordered the local Cambodian Angkor beer, a drink which was soon to hold much significance in their lives.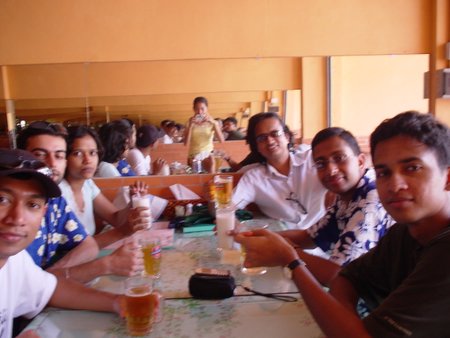 This photo is so cool! You can see the girl who took the photo,
in the photo itself!
We headed for Banteay Srei next, a Hindu temple dedicated to Lord Shiva, which supposedly had the finest of Angkorian stone carvings.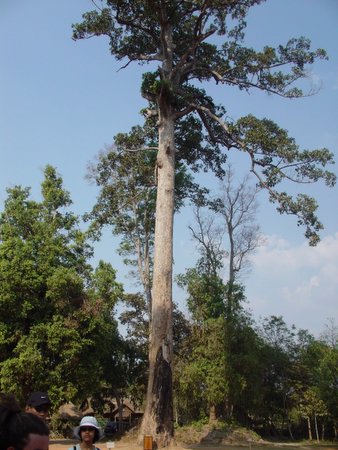 This tree, just outside Banteay Srei, was soooooooooooo tall!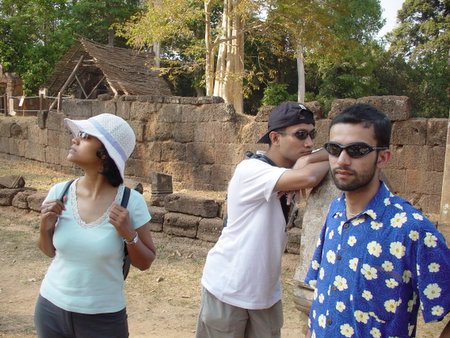 And as usual, I was the only one excited about how very tall the tree was!
We were again greeted by locals trying to sell us postcards, clothes and jewellery. But they did not really pester us. Since we did not look interested, they said, "You come back and buy from me, okhay?" And as usual, I said, "Okhay!" before entering the temple.
According to the Lonely Planet Guidebook, 'Banteay Srei' literally means 'Citadel of the women' as it is said to have built by a woman, as the elaborate carvings are too fine for the touch of a man. Hear hear!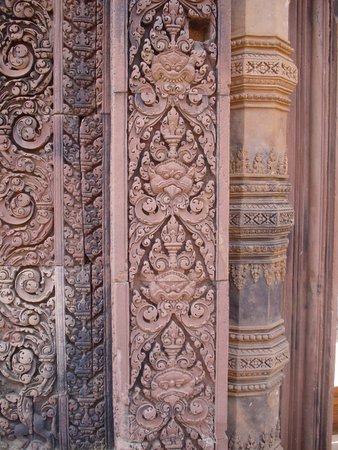 The extremely delicate carvings at Banteay Srei are
cut from stone of a pinkish hue.
The temple was apparently commissioned not by a king, but by a Brahmin. Scenes from Indian mythology had been recreated in stone. One of the most intricate was the slaying of the demon Hiranyakashipu by Narasimha, an avatara of Lord Vishnu.
Kimli started telling us the story, but soon switched to quizzing mode again. I was like -- that's it, man, no smartass quizzes me on one of my favourite mythological stories! And I proceeded to complete the story for him. The look on his face was priceless! The story is so interesting that I have to tell it here!
After years of intense penance by the demon Hiranyakashipu, Lord Brahma finally appeared before him to grant him a boon. Hiranyakashipu asked for immortality. Brahma declined, saying "All living beings must die one day. You can, however, choose your death wish."
The demon then asked for these conditions as his death wish, "Let death not come to me by man or beast, nor devil, nor God. May my death not be caused in the day or at night, neither with metal nor with stone or wood, neither indoors nor outdoors, neither on earth nor in the sky." Brahma agreed and Hiranyakashipu got his death wishes granted. He became practically immortal.
To bring an end to the tyrant's rule, Vishnu appeared in the form of Narasimha, half-lion, half-man. At twilight (neither day nor night), Narasimha caught hold of the demon Hiranyakashipu, on the threshold (neither indoors nor outdoors), placed the body of the demon on his thigh (neither on earth, nor in the sky), and tore open the demon's belly with his sharp nails (neither metal, nor stone nor wood). Hiranyakashipu was killed on the spot.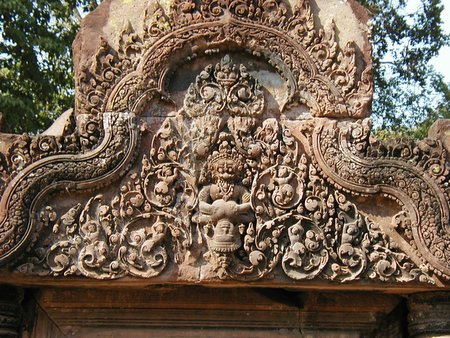 Stone carving showing the slaying of Hiranyakashipu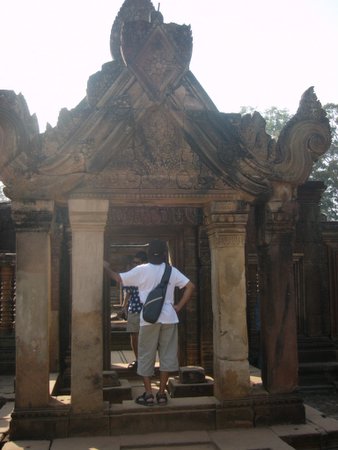 Chin trying to figure out the tale
I read that the temple-restoration work had been carried out using a technique called 'anastylosis'. This involved analysis and rebuilding of the temple using as much of the original material and methods of construction as possible. Anastylosis allows the discreet and justified use of new materials to replace missing stones.
As part of the reconstruction, whole parts of the temple were taken down, each block numbered and then reconstructed with the help of drawings and photographs. At the same time the stones found in the rubble which had tumbled from the crumbling upper walls were also re-assembled according to the location of their natural fall!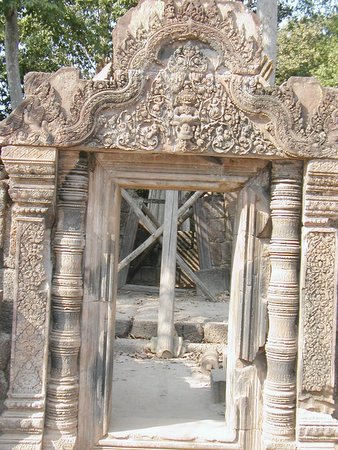 Reconstruction work going on at Banteay Srei
Notices were put up in parts of the temple that were closed to the public due to reconstruction work.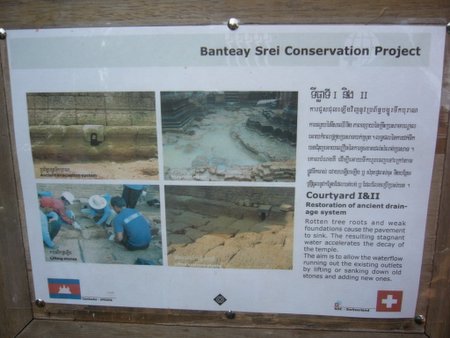 Banteay Srei conservation project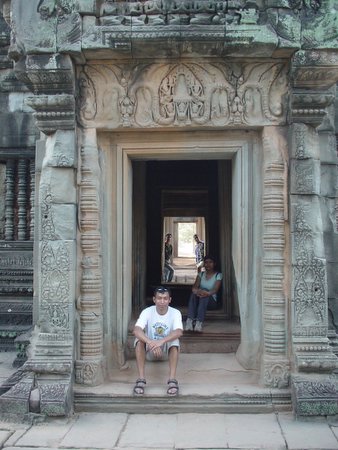 Isn't this photo really cool?
Kimli chatted on merrily, and told us many stories, spiced up by his heavily accented English and cute pronunciation of certain words. Here's an excerpt from a conversation between Kimli and Chin.
Kimli: Do you know who Brince Rama was? Brince Rama was Brince Sita's husbands.
Chin: Husbands? You mean one husband, isn't it?
Kimli: Yes, yes, one husbands!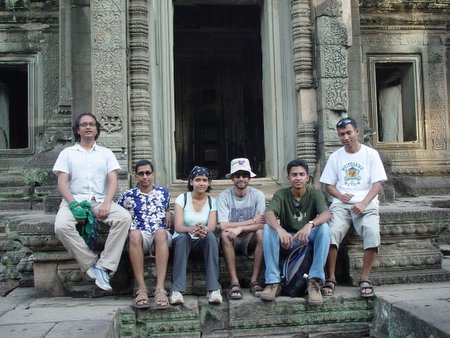 Last picture before we left Banteay Srei
I had barely stepped out of the temple when the locals surrounded me again. "You said you will come back and buy from me, okhay?" That's when I realised that when you say, "Okhay", they actually take it as a promise. I bought a red Cambodian T-shirt and some hand-made bead jewellery as souvenirs for my colleagues. We had picked up a few Khmer words from the Lonely Planet book, and "Au Kohn" (Thank you) was one of them. The amusement (and sometimes delight) on their faces whenever we said "Au Kohn" could not be described!
We proceeded to Banteay Samre next, a temple built by King Suryavarman II. Evidences of looting and destruction gave the place a desolated look.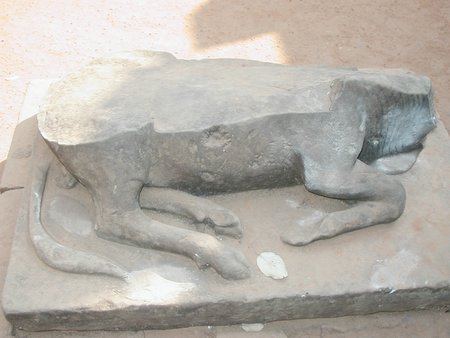 This statue of Nandi, Lord Shiva's bull, had been damaged
almost beyond recognition.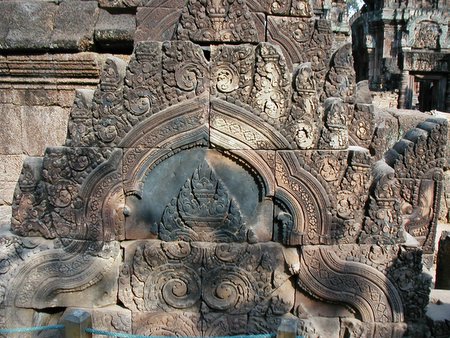 The architecture, though discoloured in several places, was
quite eye-catching.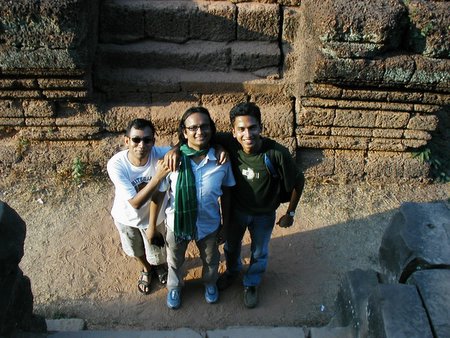 Three guys looking up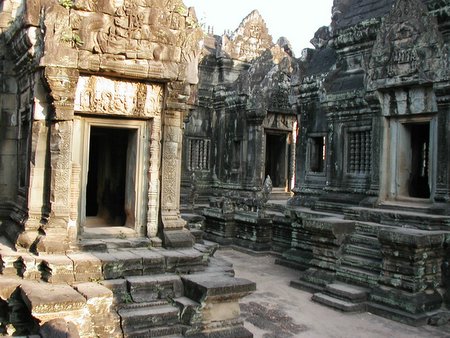 Structures of Banteay Samre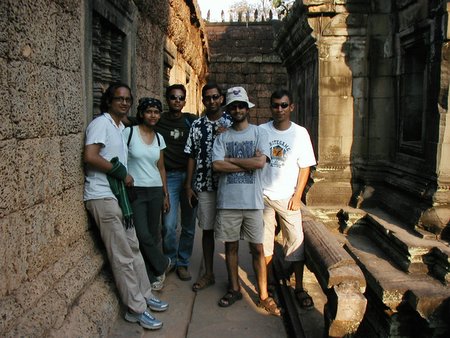 It was getting dark, and sunset was almost there...
We decided to view the sunset from Banteay Samre too, but from our
Phnom Bakheng
experience, I was mentally prepared for a watered down sunset again. The guys, however, were not ready to give up and had made up their minds to "make the sunset interesting" if it wasn't! Ro went ballistic with the different modes of his camera, and captured the otherwise boring sunset in a variety of hues and shades.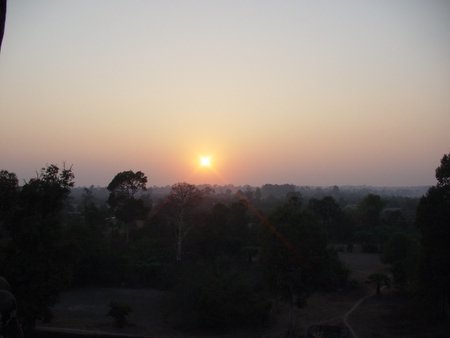 Version I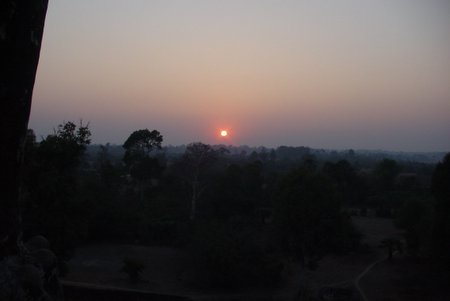 Version II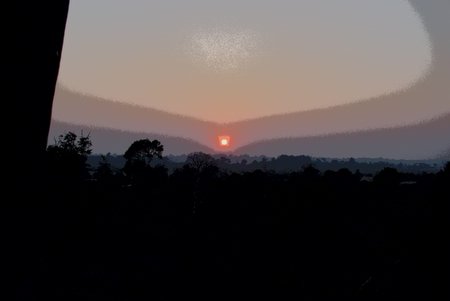 Version III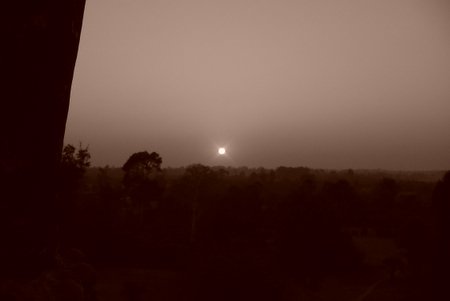 Version IV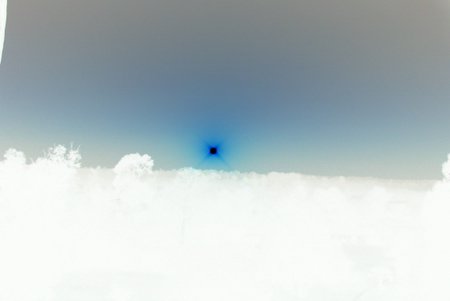 Ok Ro, stop it now, you're going crazy!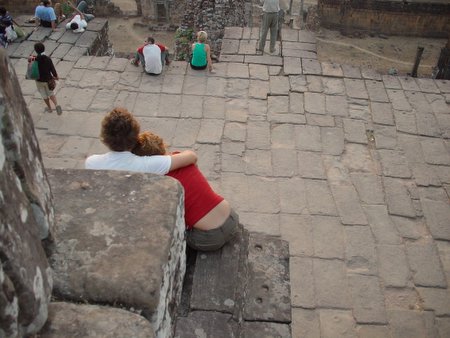 The guys also found other things to look at, to make the sunset
interesting!
We were exhausted and starving by then. We went back to the hotel to freshen up, and headed for -- where else -- old market, for dinner.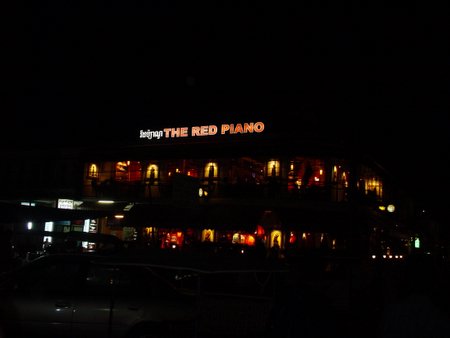 The grand Red Piano
The food, as expected, was excellent. I felt like I could never tire of Khmer food. I also ordered a margarita with lime as part of my 'I-will-try-every-kind-till-I-can-decide-what-I-like' resolution, but did not like it too much. Later, as we sat downstairs to have coffee, I borrowed Viv's phone to call my parents, and tell them that I was "okhay"! (My parents and sister had been reading too much about the bird flu and the landmines and the mosquitoes, and had generally been very panicky about my Cambodian holiday).

We had been over-using the "okhay" word ever since we'd heard it. Even in my thoughts, it was "okhay"!
It had been two whole days since I had checked my email. The amazing part was that this did not bother me. I actually welcomed my no-email-no-mobile-phone status. "I shall not check email in Cambodia", I made a secret promise to myself, as I sank down comfortably in my seat, flanked by my friends. Peace...