Perdang - Day 2 Part 1
On the night of Day 1, Viv and I decided that we would get up really early on Day 2 and go jogging on the beach. "Nice try!" is all I have to say to that.

The breakfast at Tuna Bay was really nice, and we were ready for the day! On the to-do-list was a lot, including canoeing and snorkelling.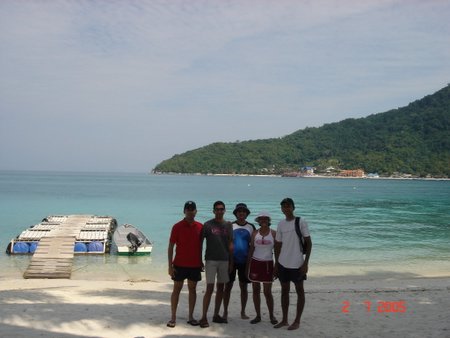 Gosh! I'm so much shorter than the guys! Darn!
We got the canoes and off we went! Viv and I were in one, Jeeves and Soldier took one, and Ro took the third one by himself. He had never canoed before, and capsized the canoe on the beach itself! Twice! Don't ask how. Talent, I guess.
We decided to take some photos. Soldier's heart was beating fast, as I took the camera out to take the photos. If we'd capsized then, that would have been the end of his ultra cool camera!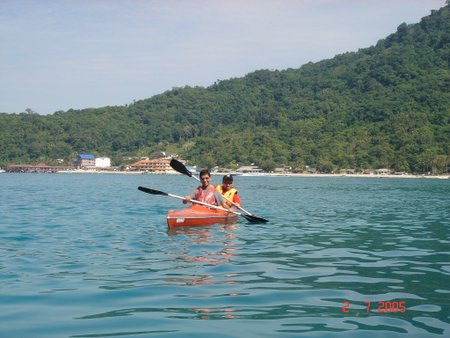 Jeeves and Soldier
By then, Ro had got the hang of the boat and was managing fine by himself. He did not capsize any more after that.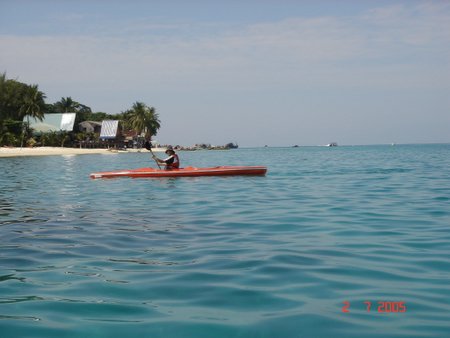 Ro, Ro, row your boat...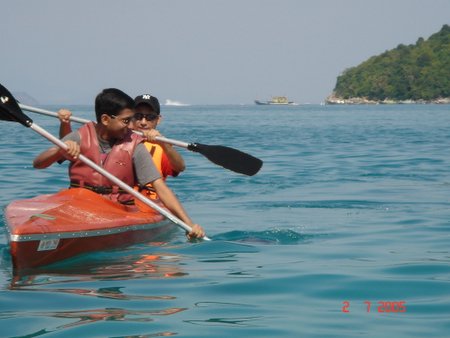 Suddenly, Jeeves and Soldier came very close to our canoe...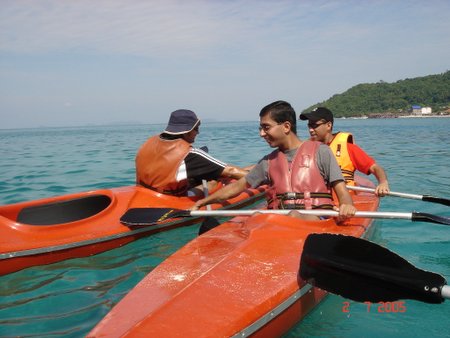 And bumped into Ro, who had suddenly appeared out of nowhere!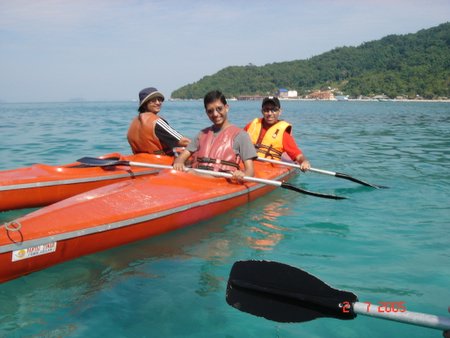 They steadied themselves for this shot.
At the meeting point, transfer of the camera took place so Viv and I could also pose.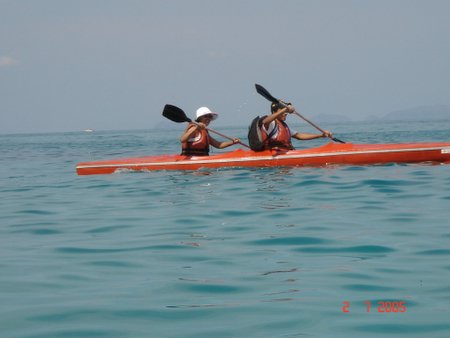 And there we are!
The water was amaingly clear, and we went far into the sea. In some parts, you could actually stop rowing, steady the canoe, look down and see beautiful pink corals and fish! We canoed for about an hour or so, and were finally exhausted.
After a quick lunch of pasta, we were ready to join a big group of snorkellers. The boatman took us to three different spot, and we saw some really amazing marine life. We did not carry any underwater cameras with us, so I do not have any pictures to show.
Now and then we could return to the boat to take a break and discuss the stuff we saw. "Did you see the turtle?", "Did you see the pink coral and the purple fluorescent fish?" etc. Suddenly I heard Ro telling Soldier, "Did you see the blue one? Amazing!" "Blue one? Which blue one?" I wondered. It was later that I found out that they had been discussing a hot female snorkeller in a blue bikini! Apparently, Soldier had forgotten all about the fish and was following her around!
Soon, another group of snorkellers were dropped off at the same spot. At one point in time, there were actually more snorkellers than fish! Suddenly, I bumped into Ro, who almost jumped out his skin! After that, there's been so stop to his teasing that I was the big
ikan
(Malay word for 'fish') that scared him in the water!
Soldier left the snorkelling spot early as he had to go scuba diving. The rest of us continued. I discovered lots of very beautiful fish I'd never imagined existed on the earth. And gradually, I got more comfortable with snorkelling. When I had gone to Tioman island a couple of years back, I had snorkelled only for a short while, as I could not get used to breathing using my mouth instead of my nose. But this time, I was at ease, and thoroughly enjoyed myself! Ro and Jeeves were also enjoying the view of the 'blue-bikini-mermaid' and others of her kin. Viv, on the other hand, returned to the boat as fish in the water tend to freak him out. As he says, "The fish will come and touch me! Brrr!"

Finally, the boat dropped us back. After taking a refreshing bath, we were ready to chill. We sat on the beach chairs, exhausted from the exercise of the day. I could not feel my arms, possibly from all the rowing, and swimming.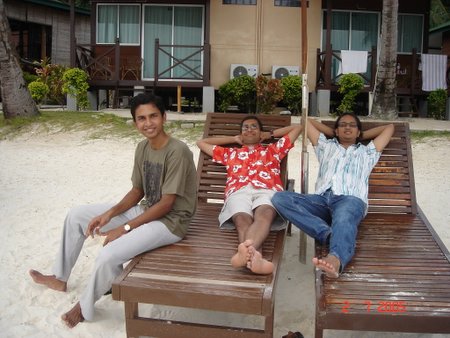 Viv and the beach twins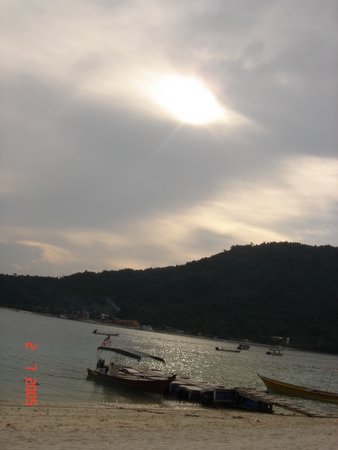 A beautiful evening sky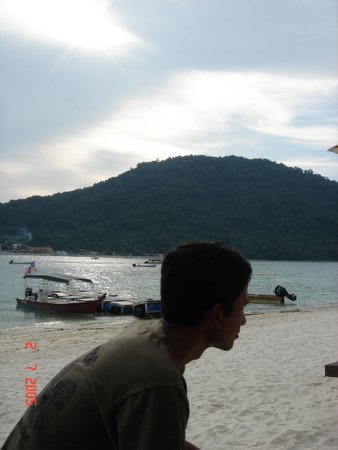 A thoughtful Viv looks on as the sun starts to set.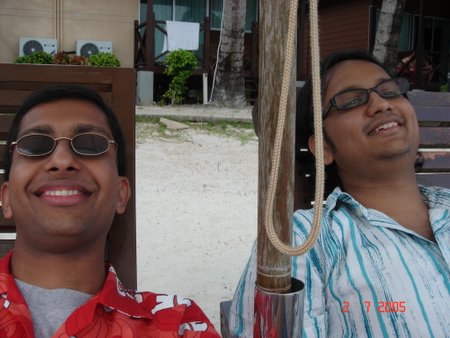 The beach twins relax on the beach chairs.
I decided to take a walk along the beach and check out the small shops. Came across more hilarious signs! Take a look at the one below.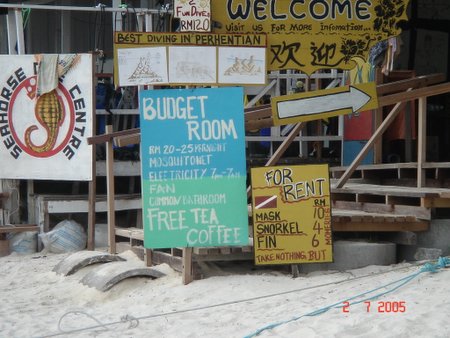 Notice anything? Nope? See below!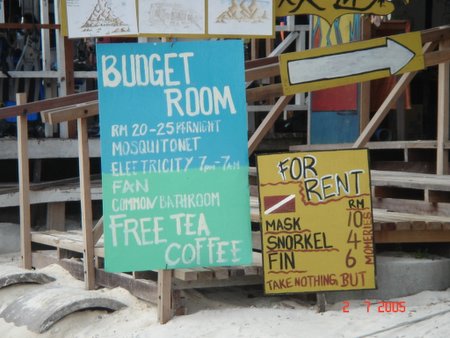 Take nothing but 'momeries'??!!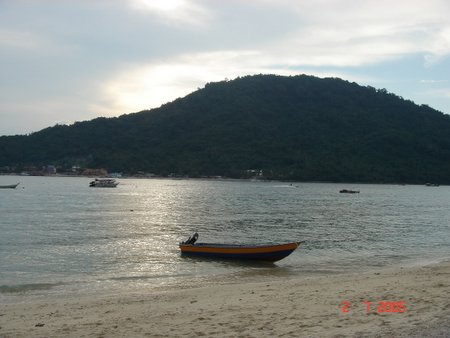 I shot a few more pictures of the sunset.
A lone jogger was enjoying an evening jog. The guys were enjoying the view of the lone jogger.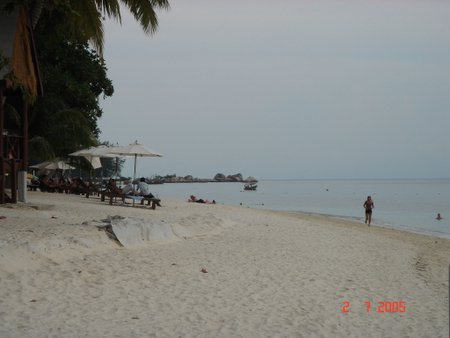 There she was!
We were getting hungry, sitting there waiting for Soldier to return from his scuba diving trip with his very hot instructor. So we decided to order some snacks and drinks as we waited. As I concentrated on the French fries, the guys concentrated on the (French?) babes.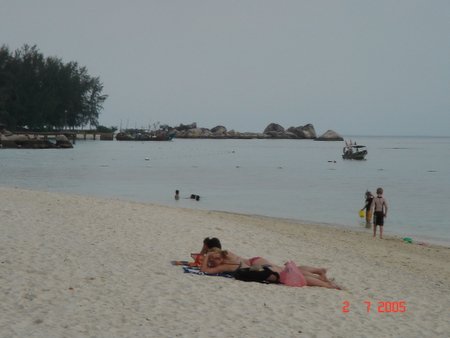 The beach is babe paradise for many people. The guys with me were no exception.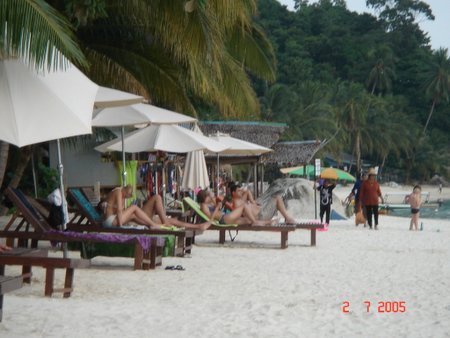 Long-legged beauties on the beach...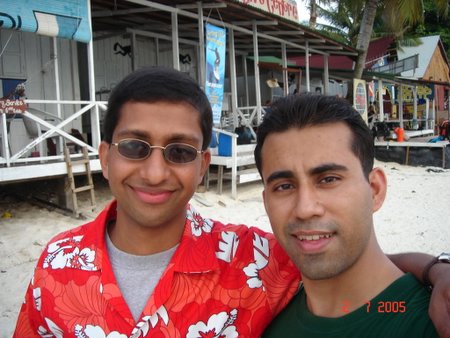 ... and a couple of very happy guys!
After Soldier came back, we decided to take a boat and go to Long Beach, a nearby beach, which Ro's friend had highly recommended as a very happening place.
We convinced a local boatman to take us to Long Beach.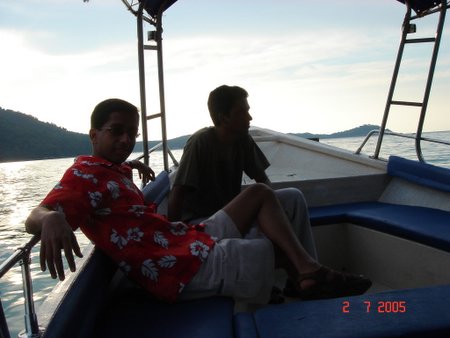 On the way to Long Beach
A short ride later, we were at Long Beach. From a distance it looked like any other beach, but boy, were we in for a surprise!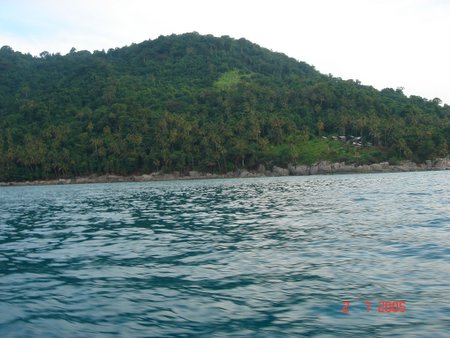 Long Beach from afar
Our boat could not go all the way to the shore, so we were transferred to a tiny boat to take us there. It was difficult for us to get out of the boat without upsetting it.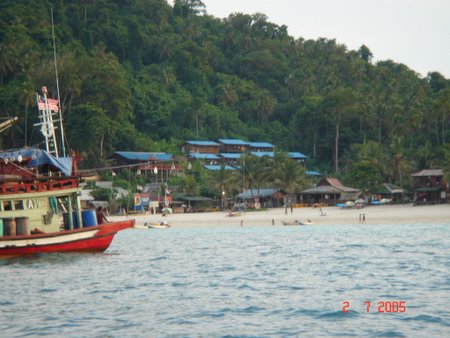 And finally, we had reached Long Beach.