Cambodia - Day 3 Part 4
We set off from there to find the elephant terrace. Apparently, this 350-m long giant enclosure was used as the Khmer king's audience hall. The place was vast, but quite neglected, and looked more like a jungle than a tourist spot.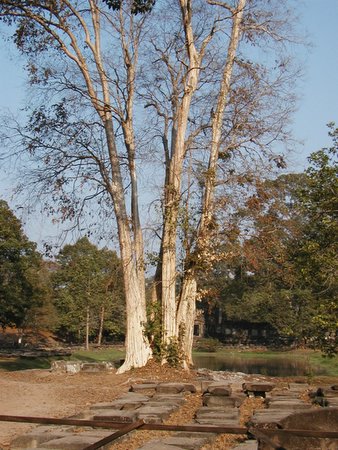 We were drawn towards these huge beautiful trees…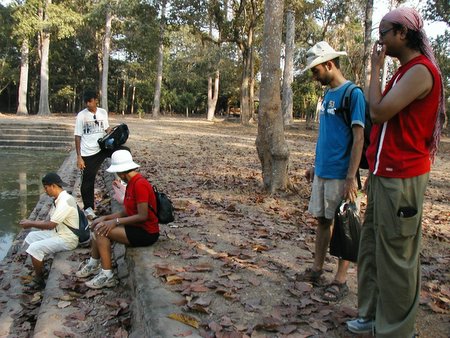 …which led us to "the pond".
I have put the two words in double quotes because its meaning extends beyond the tiny and dirty water body that one would perceive it as. We were really tired. Exhausted. Could not walk another step. So we decided to just sit there and rest a while. And as we sat there and stared at the lily leaves, the slimy green water, the pond-skaters and the dragonflies in the pond, we fell silent. No one spoke a word. There was nothing to say. There wasn't a need.
And I don't know if anyone else felt it, but I did. That very moment, was the moment that bonded all of us. Something tells me that Ro felt the same, but maybe I am not sure. Probably the others felt the same too. But you don't ask these things. You can't. It takes away the beauty of it all. So I just sat there and soaked up that warm feeling for what seemed like eternity. I did not feel like leaving the place.

But we had to. Eventually we did. And aimlessly walked around the place.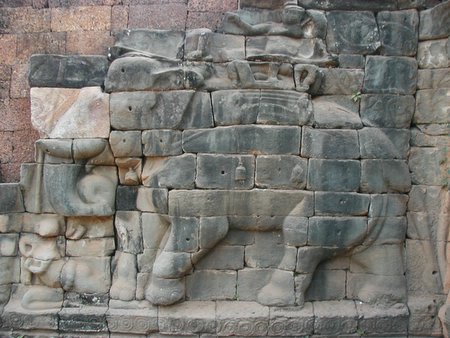 Interesting elephant structure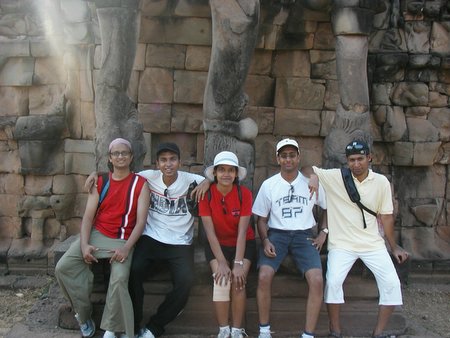 We pose with the elephant trunks.
We never really found the terrace of the leper king. But somehow, it did not matter.
We just got on our bikes and rode back. It was long long way before we reached Max's bhutta woman (ok, that sounds funny!). Anyway, his dream was soon fulfilled as we all sat down and had bhutta!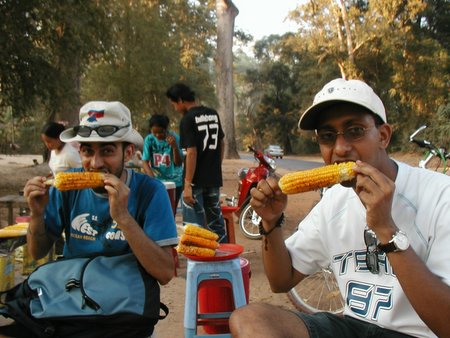 Relax Max, no one's snatching that from you!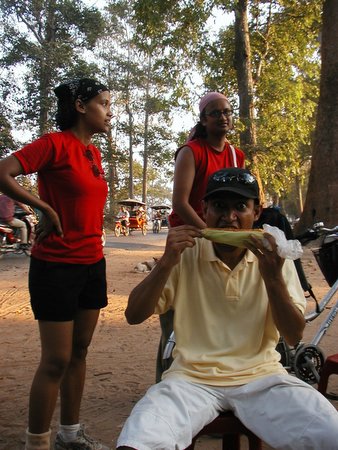 And Chin, not from you, either!
Meanwhile, I had started a conversation with the drinks lady, who only knew three English words – drink, dollar and no. I am amazed at how I managed to speak to her for about 15 minutes. I guess we laughed 10 out of the 15 minutes, at each others' helpnessless at figuring out what the other was saying.
Finally, we left the place and headed back to Siem Reap. We were supposed to go for a 'Dinner and Dance'. D&D in Siem Reap? We will come to that later.
We were halfway along the road, when we suddenly realised that we had left our bag at the bhutta place! Panic panic panic! All those beautiful souvenirs! Jeeves' camera! Other stuff! Sob! But wait a minute, maybe there still was hope. We waited while Max made a backward dash on his bike to retrieve the bag.
Jeeves told me that it was his lucky camera, and that it couldn't get lost. So we crossed our fingers and waited. And waited. Finally Max was back, with the happiest smile on his face, and we knew. Mental note of thanks to bhutta lady, and we were back on track.
We were almost near our hotel when we split into two groups, and each group lost its way briefly. My group was the first to reach the bicycle store, possibly 'cos my group had the girl, and it's ok for a girl to ask for directions, isn't it? (What is it with guys and the reluctance to admit they are lost and ask for directions? But let's not get into that!)
After returning the bikes, we were ready for the grand dinner and dance -- dinner for us and dance by the apsaras. Real ones. We had booked dinner at a cultural show, and were soon bathed and scrubbed, decked in our "finery" to go view the apsaras.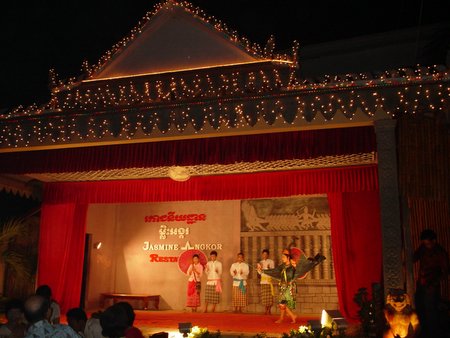 Jasmine Angkor restaurant, where the show was held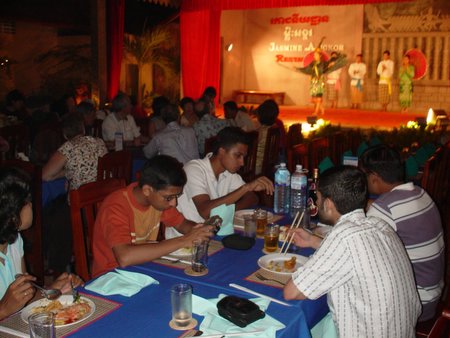 It was a multi-cultural buffet dinner, and I hogged on the papaya salad,
as the peacock dancers frolicked on stage in their elaborate costumes.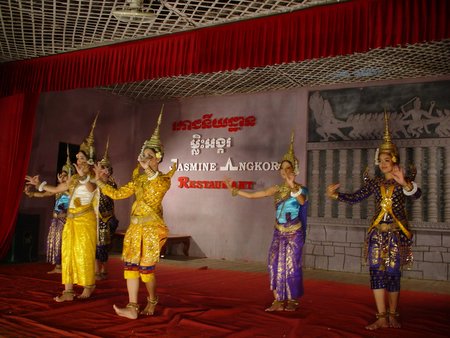 And finally, the highlight of the evening -- the apsara dance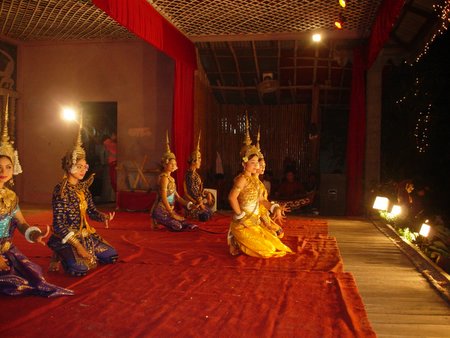 The elegant dancers displayed their talent.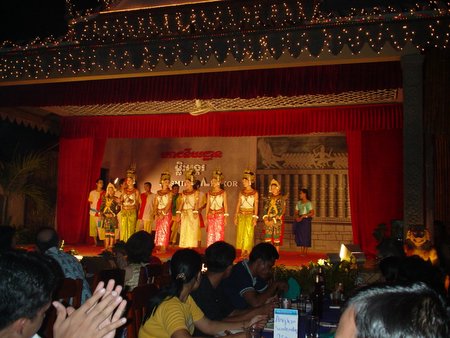 After the dance, the host invited people in the audience to go on to
the stage and take pictures with the "apsaras".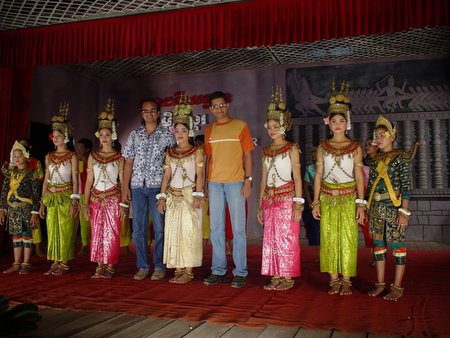 And of course, the guys jumped at the chance!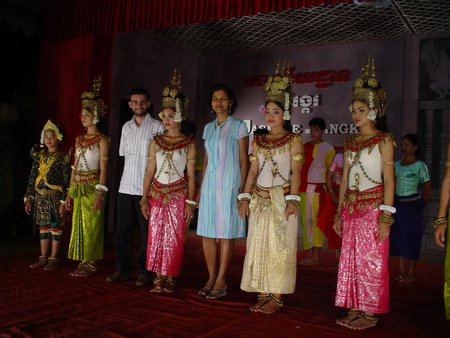 Errr.. so did I!
After the D&D, we went to our favourite old market, and as Jeeves and I had discussed earlier, that was the best day to get a massage for our aching muscles. We decided to check out the massage places (at this point, I'd like to confess that I'd never had a massage before, and so I pretty much found everything weird!) and finally picked one. The masseuse washed my feet (ok, that was ticklish!) and then we were asked to go to the massage room upstairs. They also asked us whether we wanted an oil massage or a powder massage, and unsure about the origins of the "powder" in the "powder massage", we chose the oil massage, which sounded like the lesser of the two evils.
The "massage room" was this creepy, dark and dimly lit place, with mats arranged on the floor. There were no partitions between the mats, and I was on the verge of completely freaking out. Thankfully, the masseuse led me to a makeshift "changing room" in the corner, and gave me a big towel and huge pajamas. If the room was not so dimly lit, I would have made my way out and joined Chin and Viv who had decided not to go for the massage, and were chilling somewhere out there. But it was really dark, and you could barely see a thing, which was actually good in a way. "Ok let's get this thing over and done with!" I said to myself.
The masseuses obviously did not speak any English, and there I was, at the mercy of someone whom I did not know how to communicate with. My masseuse was quite amused at my very obvious uneasiness, and her smiles looked eerie in the dim light, making me freak out even more!
Anyway, we tried to trust ourselves in the "good hands" of the masseuses. Some really weird, freaking, gong-like eerie music was playing, which if intending to calm us down, was not doing its job very well. I did not know what was worse -- the weird massage in the weird ambience or Max's continuous chattering about the weird massage in the weird ambience.
The masseuses were perfectly coordinated, because of the code they were using. It was like -- one clap, massage left leg -- another clap, crack knuckles. Creepy again, also a relief because we finished at exactly the same time. I could not imagine being there by myself if the guys had finished earlier than me!
After the thing was over, I changed back into my dress, which started stinking immediately, upsetting me to no end. What? You had not noticed my pretty blue dress before?! You've got to be kidding me! Scroll up to the D&D part now!
We got out of the place as fast as we possibly could. Chin and Viv were waiting outside for us. I had prepared three replies in my head upon being asked the much-dreaded question, "How was the massage?"
Ans 1 – Errr….
Ans 2 – Well…
Ans 3 – Errr…
Well, I ended up saying all of them in one go, conveying what I truly felt about the whole experience.
Apparently, Chin and Viv had gone to 'Angkor What?' supposedly one of the most happening pubs in Siem Reap. I used the word "apparently" because of what I am going to disclose only in the Day 4 post.
Catchya after the break!