Perdang - Day 1 Part 2
Viv was having quite an adventurous journey too. He requested one of his friends to give him a ride to second link. He confessed that it was scary riding pillion on a 400cc bike doing 120 kmph on the expressway at night. After waiting in a long queue at second link, finally he got thru to the Malaysian check point, where he got the visa after a friendly warning. Soon, they were on the Malaysian highway, doing 160 kmph. Geez! They kinda lost their way, but after a redbull and a smoke, directions suddenly dawned on his friend and they reached Larkin, after making an illegal left turn. Viv got a ticket to the 10:30 bus to Kuala Terengganu.

Just when he thought he could enjoy a good night's sleep before he landed in Malaysia, he encountered a strange character in the bus sitting next to him. Apparently, he was a skin doctor who proceeded to show Viv 'Before' and 'After' a photo album of pictures of patients he had treated. Then he started asking Viv about his particulars and took them down on his PDA. Being the nice guy that he is, Viv tried to politely answer. He tried to be as vague as possible but I think he was freaking out already. So the doctor took out a digital camera and started showing him videos of his cute little kid. Couple of snaps down, and there were more photos of patients! By then, Viv could not take it any more and asked the doc to stop. Finally, he slept. Around 630 am, weird doc guy said goodbye and asked the girls behind him to help his friend (Viv!) get to his destination. Problem was -- the girls were just as clueless! So Viv took a cab to Merang, and got fleeced by the cabbie! 50 ringgit for a 20 km ride!

At Merang, he met a female tourist guide at an eatery and asked her to help him order some vegetarian food. Apparently, there was none! So he settled for the only vegetarian thing they had, which was a teh tarik! Viv explained the complex getting to Perhentian scenario, and she made a few calls to see if she could arrange for a boat to take us to Redang. The rest of us were only going to reach Merang in the afternoon, so poor hungry Viv had to wander around joblessly for hours and hours. He finally found some food and ate. When he was done, it was only 11:15! The rest of us hadn't even left Singapore! Not knowing what else to do to kill time, he started taking down notes for me to work on Hopscotch. (This section is so detailed, thanks to his notes!)

Life in Malaysia moves at an extremely slow pace. Add to that a few hours of lone waiting time, and it feels like all
the clocks have slowed down simultaneously.

Finally, the rest of us reached Merang. We were bundled off in a van to the agent's office who explained the rest of the journey to us. The agent was really friendly.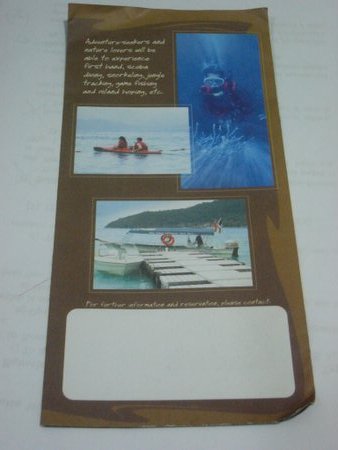 I picked up this brochure at his office, and we started laughing when we read it. Why? Check out the next picture!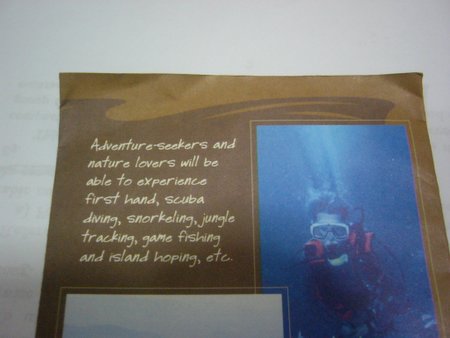 Jungle 'tracking'? Island 'hoping'? I 'hope' so! Hahahaha!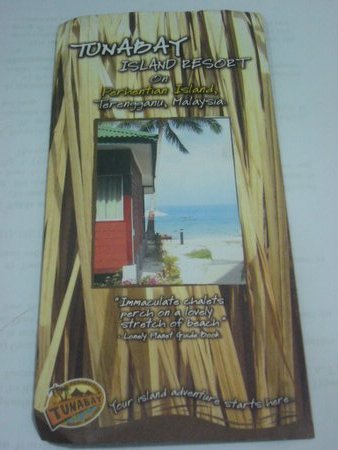 This was the brochure of Tuna Bay, the resort we had booked.



We were ready to board the boat to Perhentian, when suddenly dark clouds appeared in the sky, and the boatmen told us that we would have to wait till the storm had passed. Friendly agent asked us to go and explore around, and assured us that he would come and find us when it was time to leave. It had started drizzling, and we took shelter in a tiny eatery. We were quite ravenous and ordered maggi mee goreng, which incidentally has become one of my favourite dishes to eat in Malaysia. The teh tarik there was quite amazing too! Ro ordered everything in broken Malay and it was quite a treat to watch him interact with the owner!

By the time we finished, the rain had stopped. We took a walk around the place till friendly agent came riding on a bike to tell us that we were ready to roll.

We boarded the boat, and strapped the life jackets on, unaware of the exciting journey we had ahead!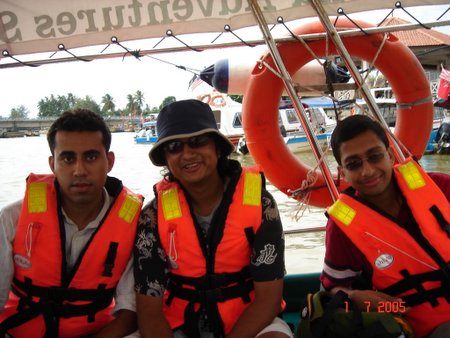 All strapped up!
And then began, what I refer to as the most exciting roller coaster ride of my life. The boat ride was extremely bumpy. In fact, the boat was never continuously on the water. It was sort of jumping up and down on the water, and so every few seconds, we would actually be flung up. So we held on to the railing for dear life, and laughed. And laughed. When you're terrified, it helps to laugh. And laugh we did. Every time the boat jumped, every time, the water splashed on us. But I thoroughly enjoyed it. I'm a person who's afraid of roller coaster rides, and to me, this was a roller coaster ride without the height. The weather was perfect. The sun was hidden behind the dark clouds, and it was beautifully breezy. Of course, now and then, a big spray of water would wet us, but the breeze would dry it out very fast. It was an amazing feeling. Because of where he was sitting, Ro was completely drenched by the time we got to Perhentian.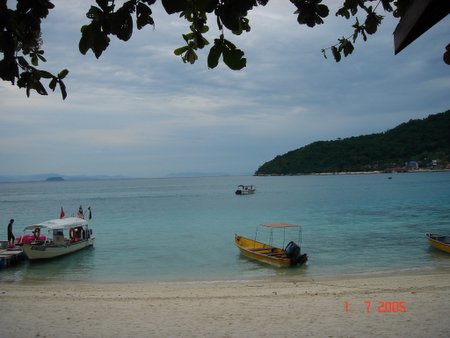 We finally reach pristine Perhentian.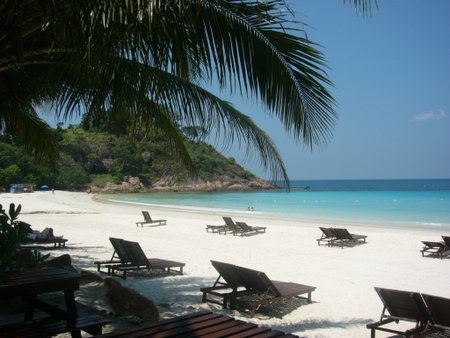 The beach was so beautiful! Looks like it's straight out of a postcard!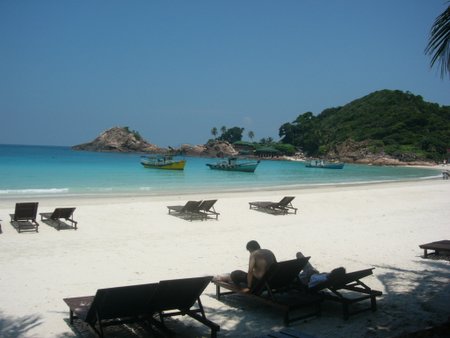 Some people were chilling on the beach chairs as we made our way into the hotel.
We had to take our shoes off to keep the sand out, before we entered the reception area. We were offered refreshing glasses of iced lemon tea on arrival and led into our rooms.
I saw hilarious signs all over, and couldn't help taking pictures of them.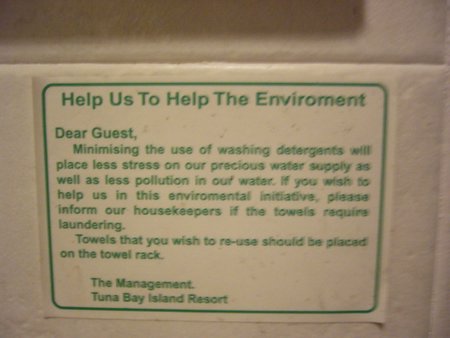 Does this mean that unless you tell them, they wouldn't wash the towels??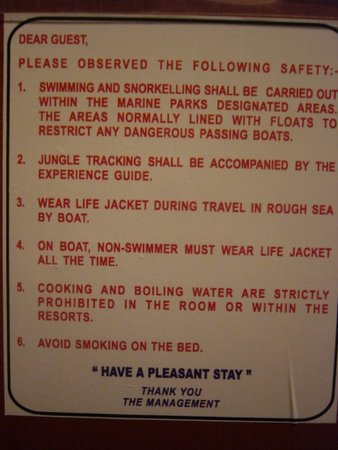 This was super cute!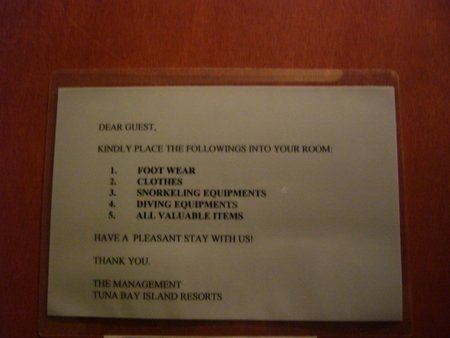 Wow, they actually told us what to "place into" our rooms!
We freshened up and were ready for dinner. We decided to try out the hotel's restaurant.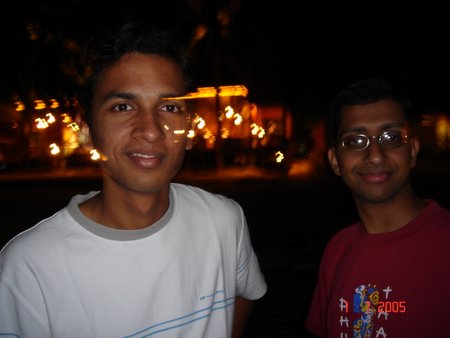 Viv and Jeeves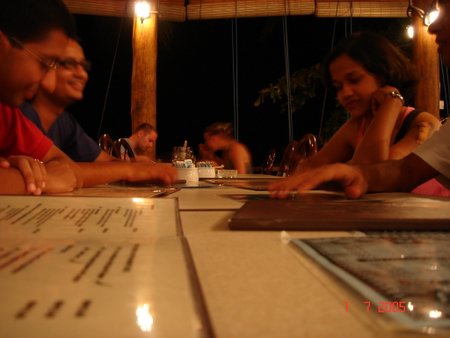 How relaxing it is to sit in the company of friends and have dinner!
After dinner, we decided to take a walk along the beach. It was dark, but we could feel the soft sand on our soles. (I don't believe in shoes when you're walking on sand.)
We came across a boat and Soldier and I decided to set up a little stage.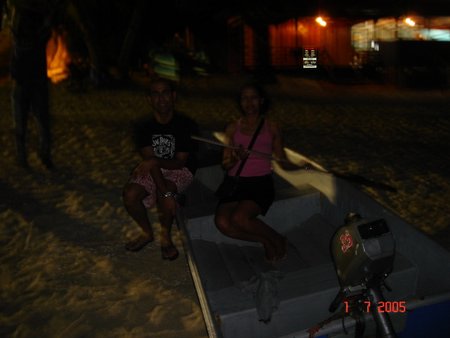 Can you see anything? Yeah, I am rowing the boat on the sand!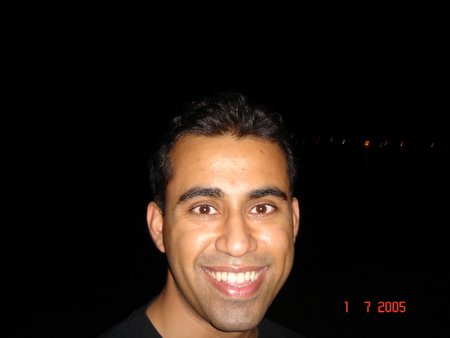 Soldier strikes a happy one!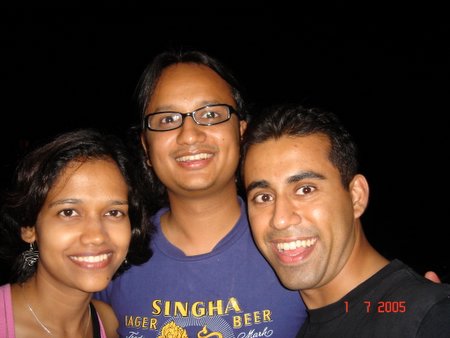 And pulls Ro and me in too! But hey, where are Viv and Jeeves??
There they are! Having a serious discussion on something!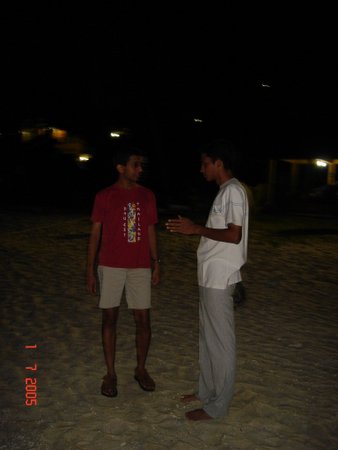 What are they talking about? F1? Cricket? Technical stuff?
I decided to make up my own dialogues for them.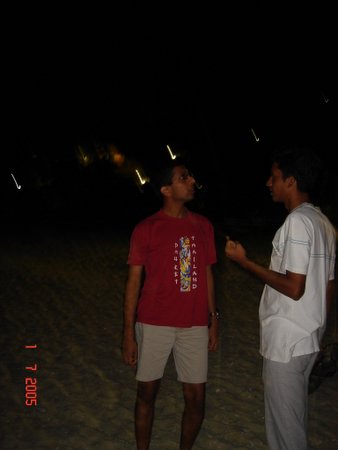 Jeeves - Hey! Who do you think you are, huh?
Viv - One punch in your face and you'll know who I am!
But it was just my overactive imagination. They were not really having a fight, it just looks like they are, doesn't it?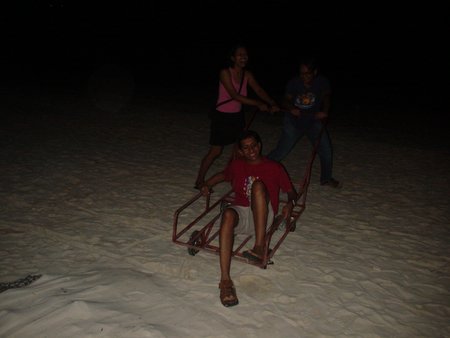 Soldier and I found a luggage trolley on the sand and decided to plonk Jeeves in it!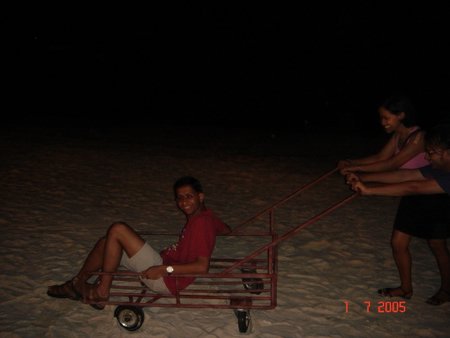 Jeeves enjoys a pram ride!
Later, we walked further down the beach to another resort and decided to check our the bar.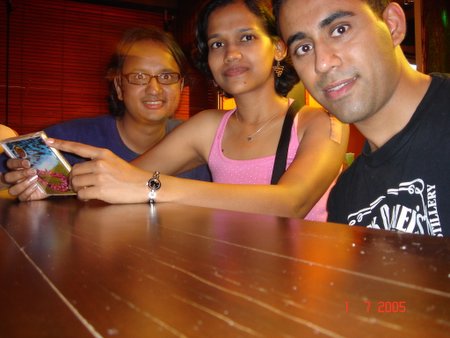 The menu was at the back of the CD in my hands! Cool, huh?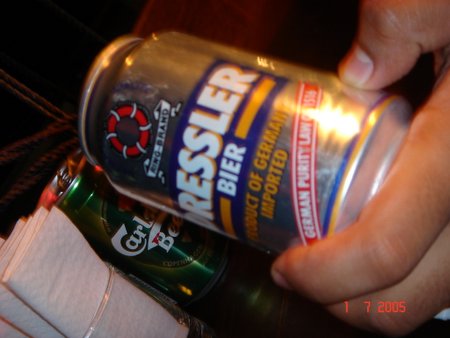 Where there are guys, there's beer!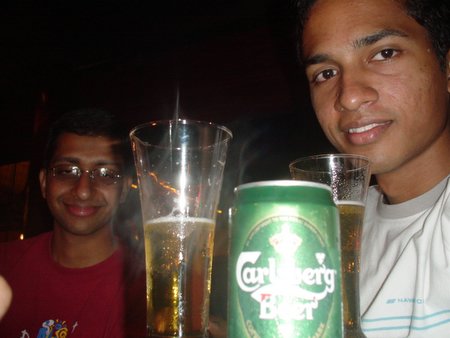 Beer maketh a happy man?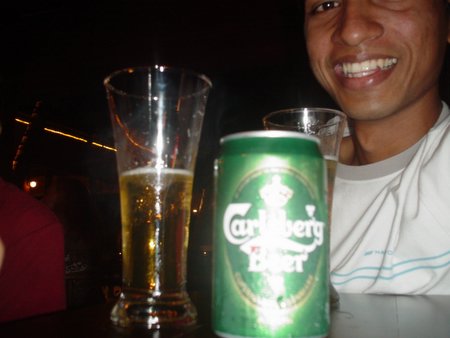 Oh yes!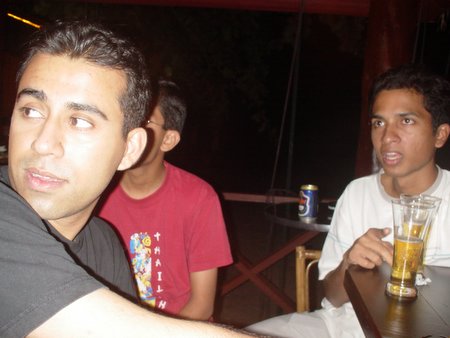 Viv - Who drank my beer?
Soldier - If I look away, he will never suspect me!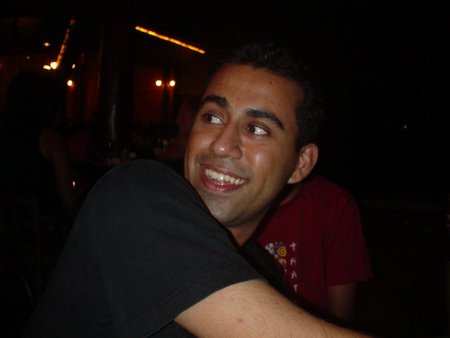 Babe alert! 4 o' clock!
Ro and I were experimenting with the camera. He handed me his glass of beer and challenged me to take a classy shot of it, using whatever props were available. I pulled in a rope that was dangling outside and put it around the glass of beer.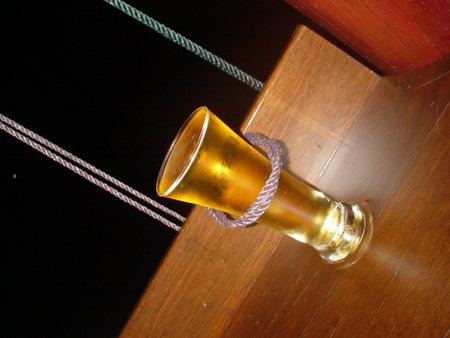 And here's the masterpiece I created! It symbolises the control that beer has over guys.
Of course, no get-together would be complete without shots of my hand. So Ro took this shot.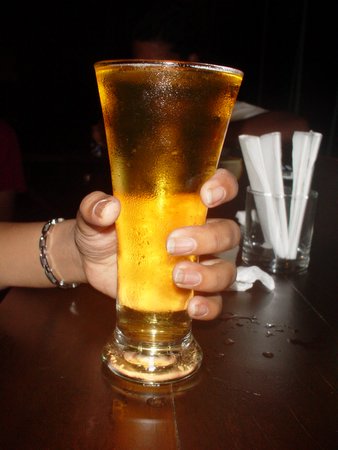 And no, I wasn't drinking beer! Beer stinks, man! I just posed for the shot.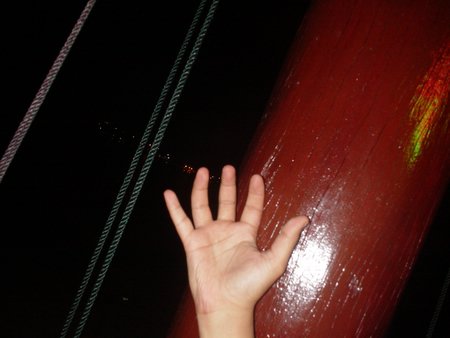 An excited Ro wanted a shot of his hand too!
I think everyone was very high already. After the exciting adventures, it was time to call it a day.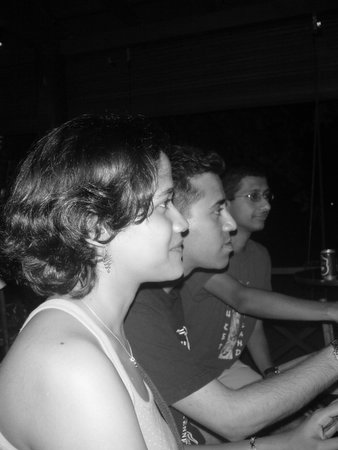 Final shot of the day