Perdang - Day 4 Part 1
We were very excited on Day 4. We were going to snorkel at Marine Park, supposedly one of the best snorkelling sites, where people had spotted huge eels.
After having breakfast, we decided to pose for a few pictures.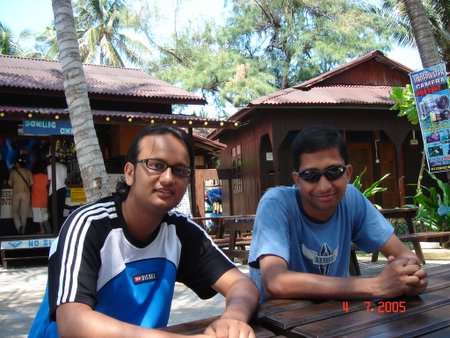 The boys in blue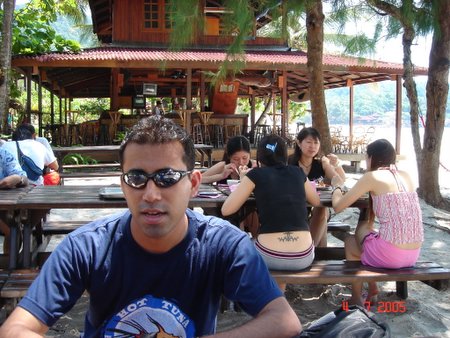 This picture was taken with the specific purpose of capturing the tattoo of the babe behind him. Soldier was just a prop.
I was admiring the beautiful morning.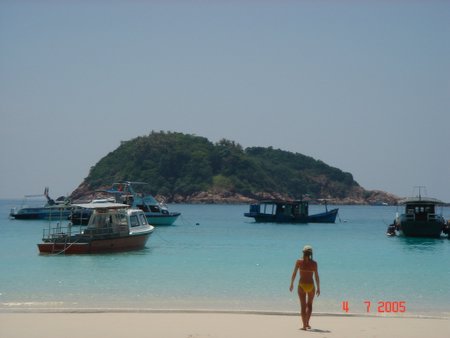 The guys were admiring other beautiful things.
The Marine Park snorkelling trip was awesome. There seemed to be millions and millions of snorkellors around. I am not exaggerating when I say that at one spot, there were more snorkellors than fish! Our guide XiaoHui, a Malay looking young man with a Chinese name, had brought with him a big sack of bread for us to feed the fish.
Now Viv is a bit freaked out about fish, especially those that brush against his face. And in Marine Park, even the shore had a lot of fish. So he chose to climb up the bridge and look at us from there. We tried to coax him into gettting in the water, but he wouldn't. So after a while, I got out of the water and went to the bridge to give him company. We started throwing bread into the water, startling a snorkellor rather badly, because the bread landed on her shoulder, and all the fish suddenly made a dash for her. I believe she screamed. Ooops. We decided to change location.
Soldier was also out of the water, and the three of us sat the slimy steps to feed the fish. We saw mini barracudas! Soldier wanted to get a closer look, and while, trying to climb down the steps, slipped. Instinctively, my hand went out and grabbed him. I believe he was very very grateful. I still have his sms that he sent me after getting back to Singapore "You have saved my life more than the designated quota for this lifetime. I almost split my skull there. What would I do without you?" I can't get myself to delete that very adorable sms message.
So in the process of being the life saver, I got bruised on the leg and my hand. The bruises started to burn in the salty water, and I decided to get back on the boat. Just then, XiaoHui exclaimed that he had spotted a huge eel and those who wanted to see it should follow him into the water. "Let the bruise go to hell!" I thought, and jumped after him. He was holding a snorkel, and kinda used it as bait to lure the eel out of its hiding. And there it was, the HUGE eel, the biggest I had ever seen. The experience of watching it, and not being able to exclaim anything because I was in water, was a once-in-a-lifetime one. I was so glad I decided to jump in. It was just amazing.

We got back, took a bath, and ventured out for lunch.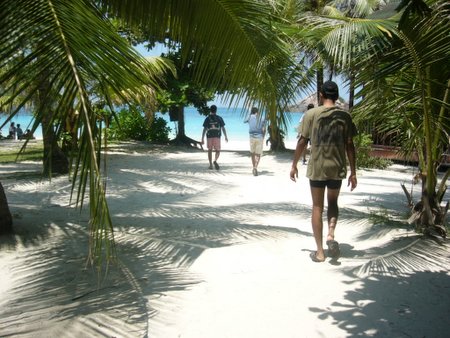 We walked and walked...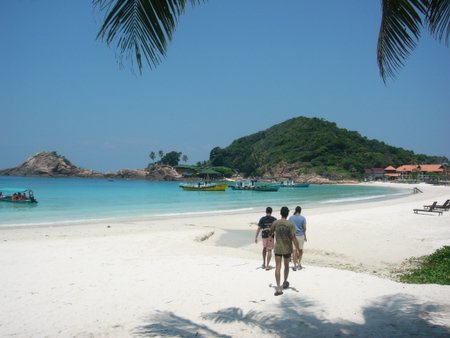 And walked a bit more...
The sun was REALLY hot, and finally we found an eating place with an ice-cream place just opposite.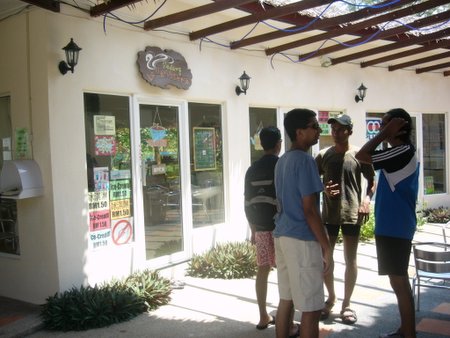 Ice-cream first or lunch first?
The food was pretty good, and not just because we were really hungry. But the most hilarious was Viv's order. He had ordered a vegetarian soup.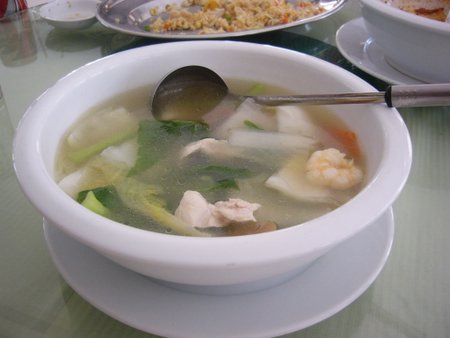 This was his vegetarian soup, garnished with chicken and prawns!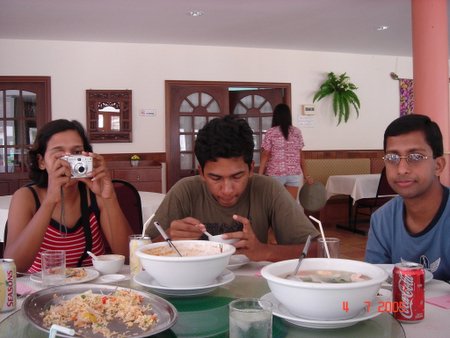 On this side of the table, the two vegetarians do not look too happy about the soup.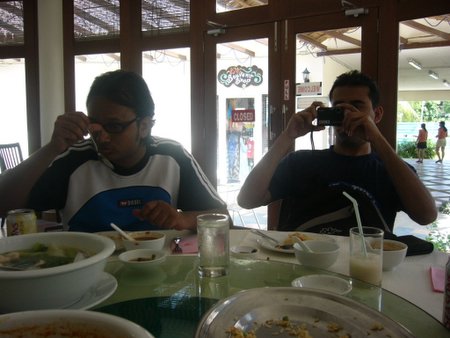 The other side of the table
When we came back, we were exhausted. After taking a long and well-deserved nap, we were ready for the evening.
I flicked the bread again...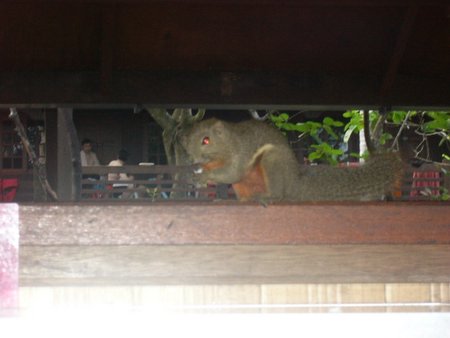 ...from under the watchful red eyes of the squirrels...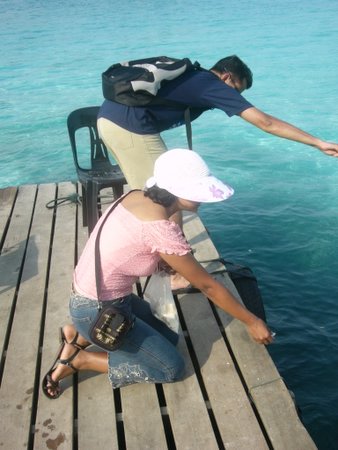 ... and soon Soldier and I were feeding the fish!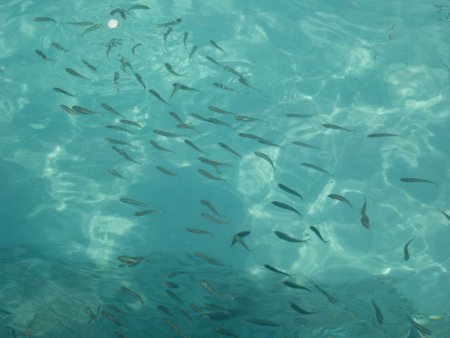 The hungry ones came flocking towards us!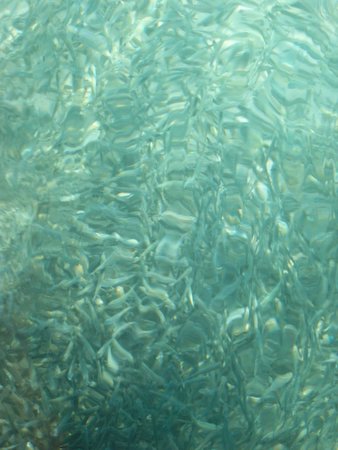 Geez! Uncountable!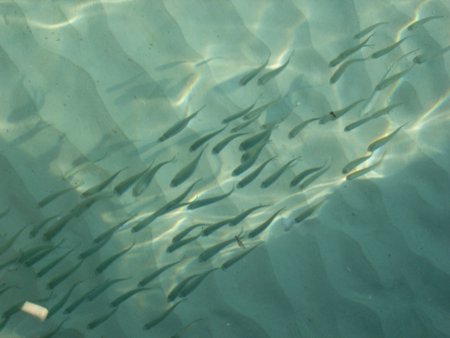 What a pretty sight!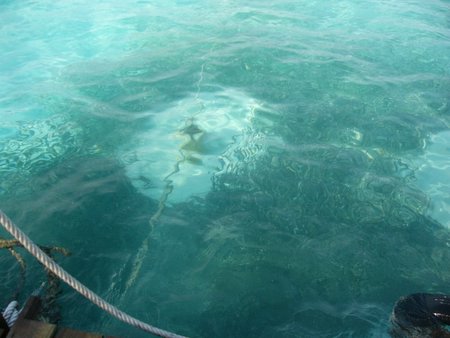 Check out the fish forming a circle around the anchors of the boat!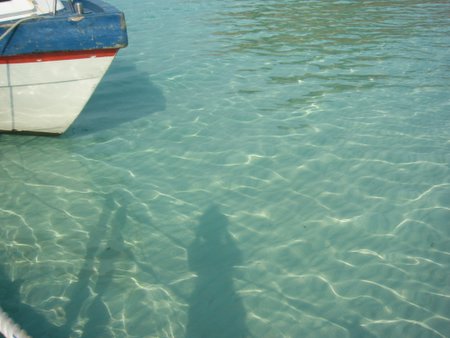 This is me taking a picture of, no, not my shadow, but the fish.
Soldier had got bored of the fish by then, and had gone to join Ro and do some babe-watching.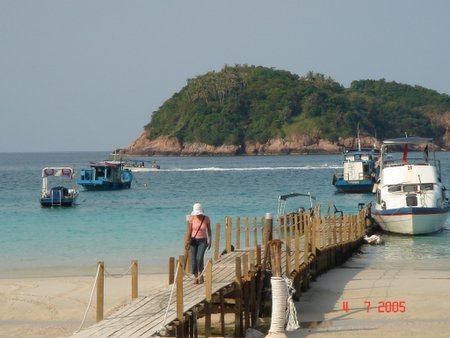 As I made my way towards them, they clicked this picture.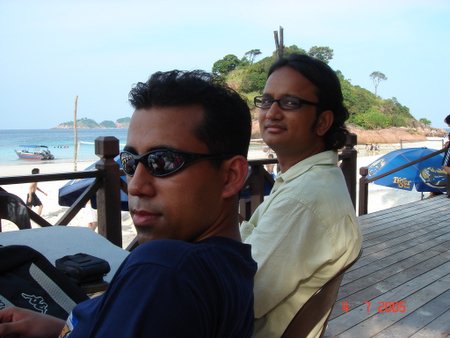 There they were!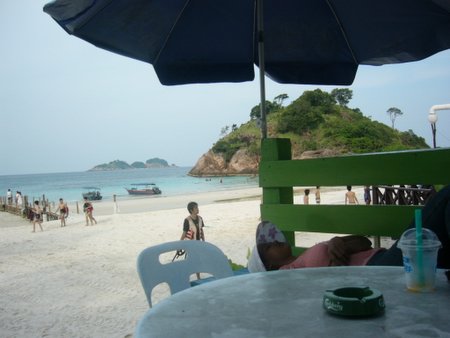 I was still exhausted from the morning's snorkelling. I lay down on the benches near a drinks stall.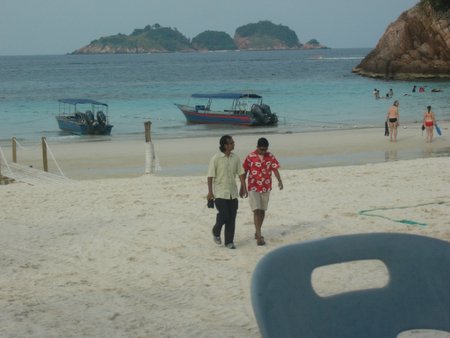 Ro and Jeeves went to take a walk, as Viv joined Soldier and me.
We decided to order some drinks, and burst out laughing when we saw the menu.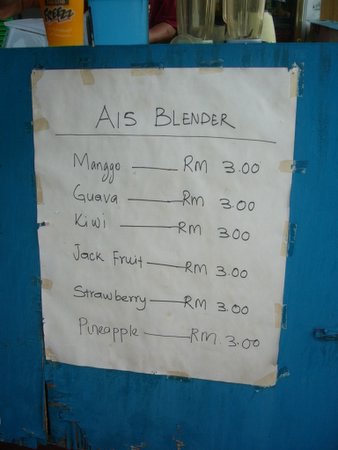 A blender for three ringgits? Cheap, huh?
I got myself a mango drink. Viv wanted a sip, and just as I passed him the glass...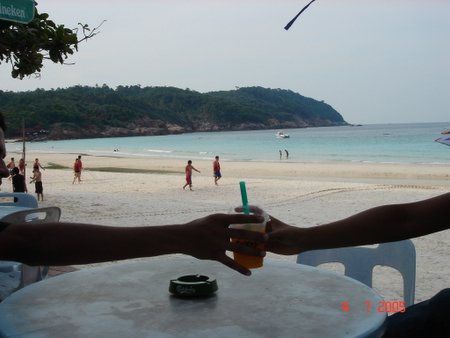 Soldier took this beautiful shot.